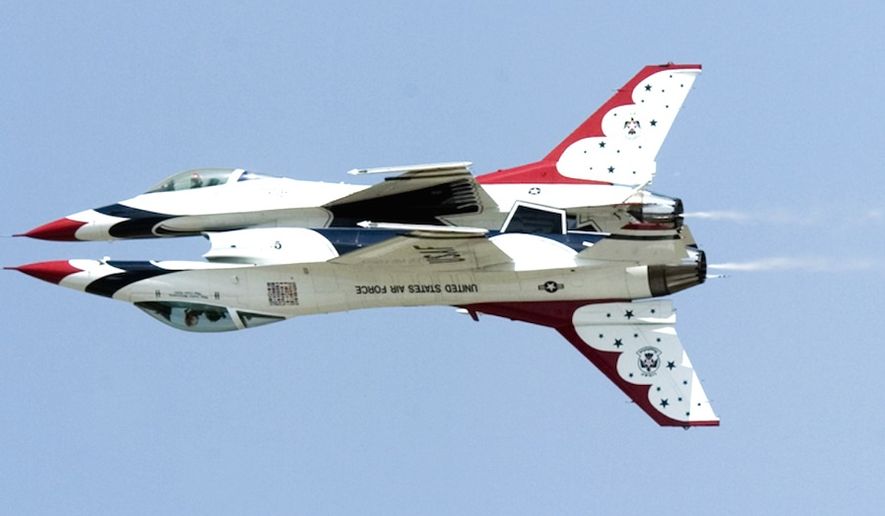 One of America's premier aerial demonstration teams — the U.S. Air Force's Thunderbirds — has relieved its commander.
Lt. Col. Jason Heard, who was on the job for less than one year, was relieved Nov. 20 due to "lost confidence in his leadership and risk management style," Air Force Times reported Wednesday.
"This was an incredibly difficult decision to make, but one that is ultimately in the best interests of the Thunderbird team," said Brig. Gen. Jeannie Leavitt, commander of the 57th Wing at Nellis. "I am personally grateful for Jason's dedication to the 2017 season."
A spokesman for the Thunderbirds claimed that Brig. Gen. Leavitt's decision was not influenced by a runway accident in June that injured a pilot and damaged his $29 million aircraft, the newspaper reported.
"We are on the road together more than 200 days per year, executing flying operations with absolutely no margin for error," Maj. Raymond Geoffroy said. "As a result, absolute trust and teamwork in both our professional and personal dynamics are foundational to our mission."
Hundreds of millions of spectators over the course of decades have watched in awe as F-16 Fighting Falcon pilots cut through the skies performing high-risk maneuvers.The Thunderbirds perform roughly 75 shows per year. The squadron trains each winter before beginning its demonstration season, which runs from March to November.
via: https://www.washingtontimes.com/news/2017/nov/29/f-16-flopping-falcon-air-force-relieves-thunderbir/