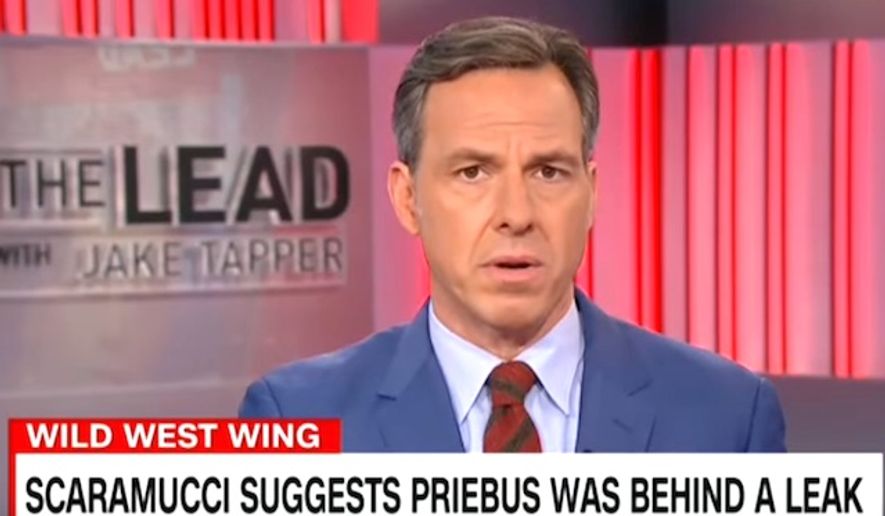 CNN's Jake Tapper says former President Obama benefited from a media industry that was "supportive" of him and reluctant to identify misleading information.
Rolling Stone magazine sat down with the host of "The Lead" this week to talk about his career, the state of journalism in 2017, and his thoughts about covering President Trump after eight years of Mr. Obama. The journalist said that he was worried about confirmation bias among his peers, along with the industry's shift toward ideological coverage instead of fact-based reporting.
"I do think there is a sort of confirmation bias that some media outlets feed and it does trouble me because I try not to do that," Mr. Tapper said for an interview published Tuesday. "Look, there's always going to be a place for ideological and even partisan journalism. That's been true as long as this nation has been around, and I think that's great, but I think it's great as a supplement to more straight news."
The CNN host was then asked about criticism he's received over his reporting on "falsehoods" espoused by Trump administration.
"A lot of people on the left didn't like it before, and now they like it," Mr. Tapper replied. "I don't want to compare President Obama and President Trump on these issues because they're different, and the scale isn't even remotely the same. But President Obama said things that weren't true and got away with it more for a variety of reasons, and one is the media was much more supportive of him. The Obama White House thought I was self-righteous and a huge pain in the ass."
Mr. Tapper concluded the interview with an affirmation of hope that "something good to come out of this era" despite its highly charged political atmosphere.
via: http://www.washingtontimes.com/news/2017/aug/15/jake-tapper-on-media-bias-obama-said-things-that-w/?utm_source=onesignal&utm_campaign=pushnotify&utm_medium=push