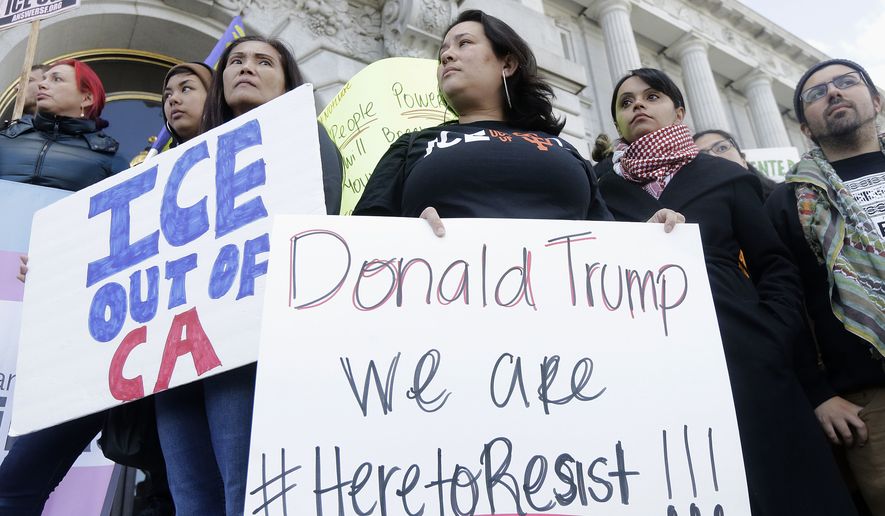 The Trump administration's attempts to punish sanctuary cities by withholding federal money is unconstitutional, an appeals court ruled Wednesday — but it narrowed the ruling to only apply to some California cities.
That means the administration could be free to apply the conditions to communities across the country that haven't been part of sanctuary lawsuits.
The 2-1 ruling by the 9th U.S. Circuit Court of Appeals is the latest skirmish in an 18-month battle between President Trump and a growing number of jurisdictions that try to shield their illegal immigrant residents from federal immigration enforcement efforts.
Mr. Trump had ordered his Justice Department to withhold grant money until localities dropped their sanctuary policies. Attorney General Jeff Sessions followed up with a new set of conditions for any cities or counties seeking justice assistance grant money, including notifying the feds when a sought-after migrant was being released from custody, and allowing deportation officers access to prisons and jails.
San Francisco and Santa Clara, two jurisdictions in California, sued, saying those conditions weren't part of the federal law.
A district court sided with the cities, saying Congress controls the conditions for receiving federal grants, and Mr. Trump's attempt to add new conditions violates the separation of powers. Judge William Orrick imposed a nationwide ban on the government's ability to use the conditions.
The 9th Circuit ruling Wednesday agrees with Judge Orrick's legal reasoning, but ruled he never demonstrated the need for his nationwide injunction.
The ruling is similar to a case out of Chicago, where another appeals court likewise found the grant conditions illegal, but also ruled against a nationwide injunction.
via: https://www.washingtontimes.com/news/2018/aug/1/us-appeals-court-trump-sanctuary-cities-order-is-i/