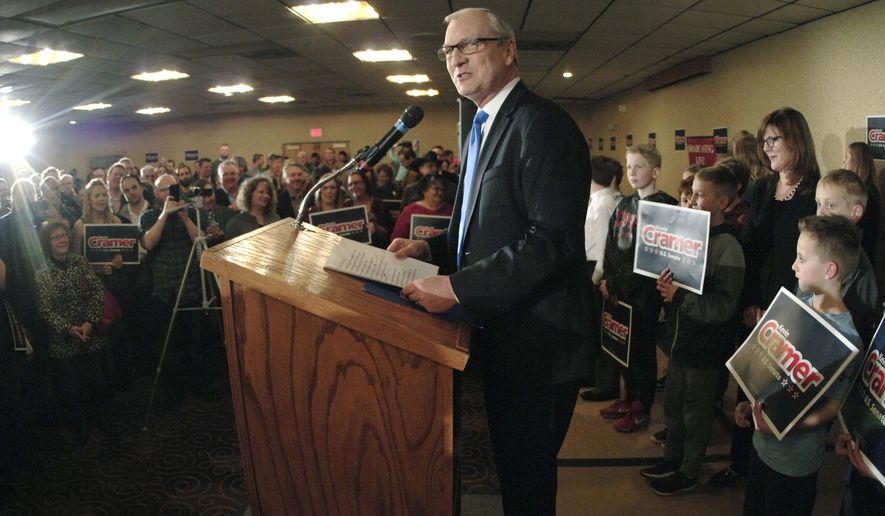 Republican Congressman Kevin Cramer launched his campaign for U.S. Senate Friday at a rally in Bismarck, saying he had to jump in the race after his opponent celebrated voting against a 20-week abortion ban.
The North Dakota lawmaker has served three consecutive terms in the House, but decided to give vulnerable Democrat Sen. Heidi Heitkamp, North Dakota's incumbent, a challenge.
Ms. Heitkamp recently drew fire from conservatives after she high fived Senate Minority Leader Charles E. Schumer, New York Democrat, after voting against a bill to ban abortions after 20 weeks.
"At that point, you realize it's bigger than you," Mr. Cramer told Valley News Live during his rally Friday night.
"Somebody has got to step in and do something about it," he said.
Ms. Heitkamp is one of several Democrats trying to hold onto their seats in red states. North Dakota voted overwhelmingly for President Trump over Hillary Clinton by 36 points in the 2016 election.
And Mr. Trump's popularity in the state may give Mr. Cramer an edge, especially since he's been a Trump ally, supporting much of the president's agenda while serving in Congress.
Republicans are looking to expand their 51 seat majority in the Senate, and Mr. Cramer has a real chance of defeating Ms. Heitkamp, who is the only Democrat holding a state-wide seat in her state.
Mr. Cramer hopes to get the president out to North Dakota for a campaign rally with him ahead of the election in November.
"I suspect he will make more than one trip out to North Dakota," Mr. Cramer said.
via: https://www.washingtontimes.com/news/2018/feb/17/rep-kevin-cramer-launches-senate-campaign-unseat-h/