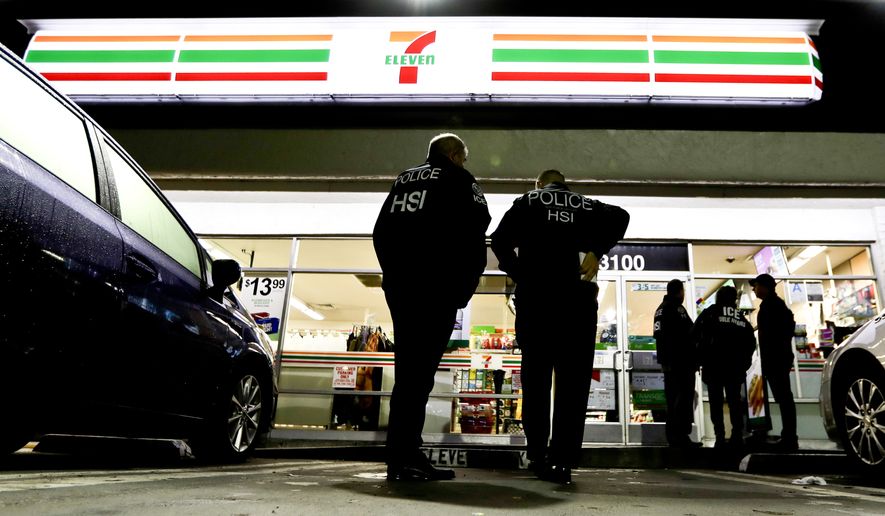 Homeland Security has already more than doubled the number of businesses it's scoured this year for breaking immigration hiring laws and nearly quadrupled the number of arrests it's made, officials said Monday.
The surge comes months after U.S. Immigration and Customs Enforcement chief Thomas D. Homan ordered the renewed focus, looking to put pressure on the magnet that draws many illegal immigrants to the U.S.
A little more than seven months into fiscal year 2018 ICE reported 3,510 worksite investigations, 2,282 paperwork audits, 594 criminal arrests and 610 administrative arrests stemming from worksite enforcement.
Each is already a significant increase over 2017's yearlong totals.
While much of the current debate in Washington focuses on the southwest border and a new increase in people attempting entry, analysts have long argued that the real action is in the interior of the U.S. where businesses are willing — and sometimes eager — to hire illegal immigrants, in violation of the law.
Those jobs end up serving as enticement for more people to make the journey, the analysts said.
But punishing businesses has been controversial — and oftentimes difficult, given companies' political clout and the rules restricting what steps businesses are allowed to take to verify their employees' work status.
Derek N. Benner, acting associate director for ICE's Homeland Security Investigations division, said they're focusing on "criminal prosecution of employers who knowingly break the law," while the audits are meant as a nudge to push businesses to take hiring laws seriously.
"Employers need to understand that the integrity of their employment records is just as important to the federal government as the integrity of their tax files and banking records," Mr. Benner said. "All industries, regardless of size, location and type are expected to comply with the law."
via: https://www.washingtontimes.com/news/2018/may/14/dhs-doubles-focus-businesses-illegal-immigrants/