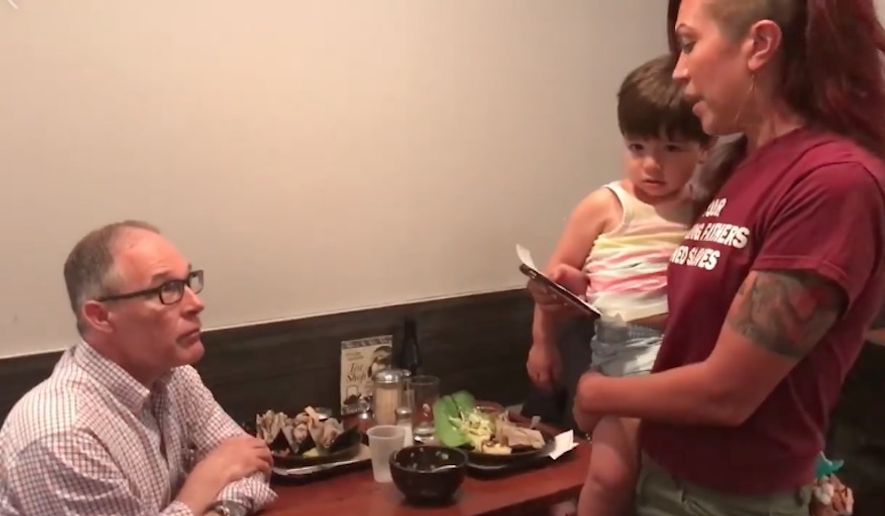 Environmental Protection Agency Administrator Scott Pruitt was confronted and asked to resign by a mother holding her 2-year-old son at a D.C. restaurant Monday.
Kristin Mink, a 6th-grade teacher at the Sidwell Friends school in D.C., posted a video on Facebook of the encounter at the Teaism restaurant in Penn Quarter, just four blocks from the EPA's headquarters, The New York Post reported.
"I just wanted to urge you to resign, because of what you're doing to the environment in our country," Ms. Mink said, holding a notepad in one hand and her toddler son in the other.
"This is my son, he loves animals, he loves clean air, he loves clean water," she said in the video. "So I would urge you to resign before your scandals push you out."
Mrs. Mink's husband reportedly recorded the encounter.
"He literally said nothing," the 33-year-old mother said of Mr. Pruitt's reaction. "He had no response, he had no defense, he had no apology, he did no explaining, he did no denying."
She said Mr. Pruitt and his lunch partner left after the confrontation.
Mr. Pruitt's spokesman, Lincoln Ferguson, said he thanked Mrs. Mink for her words and left shortly after finishing his meal.
"Administrator Pruitt always welcomes input from Americans, whether they agree or disagree with the decisions being made at EPA. This is evident by him listening to her comments and going on to thank her, which is not shown in the video," Mr. Ferguson told The Post. "His leaving had nothing to do with the confrontation, he had simply finished his meal and needed to get back to the EPA for a briefing."
Mrs. Mink said she didn't plan the confrontation, but she has been protesting against the Trump administration's immigration policies as of late. Last week, she was arrested during a protest at the Hart Senate Office Building, she told The Post.
President Trump's policies at the border have resulted in widespread protests and administration officials being accosted in public and at their homes.
Senate Majority Leader Mitch McConnell and his wife, Secretary of Transportation Elaine Chao, were accosted by a group of protesters last week as they were leaving a dinner at Georgetown University. DHS Secretary Kirstjen Nielsen was chased out of a Mexican restaurant and accosted by protesters at her Virginia home. White House press secretary Sarah Huckabee Sanders was kicked out of a Virginia restaurant. The president's senior policy adviser, Stephen Miller, was called a "fascist" at a D.C. restaurant. And Florida Attorney Gen. Pam Bondi was heckled outside a screening for the new Mister Rogers documentary "Won't You Be My Neighbor" in Tampa.
via: https://www.washingtontimes.com/news/2018/jul/3/scott-pruitt-epa-chief-confronted-at-dc-restaurant/