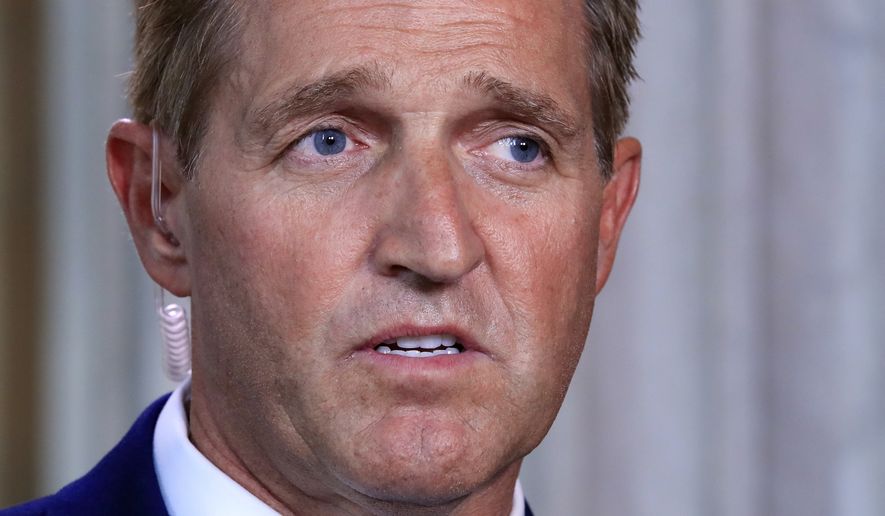 Seeking an immigration middle ground, Sen. Jeff Flake is working on a bill that would outbid President Trump's amnesty, but would include funding for his border wall and at least some action toward limiting the chain of family migration.
Mr. Flake's plan would also free local communities to cooperate with federal deportation efforts by indemnifying them from liability over detainers, according to a summary obtained by The Washington Times. That isn't the crackdown on sanctuary cities desired by many conservatives, but it would free jurisdictions who want to cooperate but have been frightened away by the threat of lawsuits from illegal immigrant advocacy groups.
The plan is dubbed the "Pillar Act" — presumably a reference to his attempt to meet Mr. Trump's four pillars of an immigration deal.
Mr. Flake's proposal would expand the universe of Dreamers eligible to earn citizenship by allowing those who came before June 15, 2012, and who were under the age of 18. The current Obama-era DACA program only applies to those who came by 2007 and were under age 16.
But in a major concession, he would prevent the newly legalized Dreamers from being able to sponsor their parents for legal status. Conservatives have said that's critical to ensuring parents don't benefit from their illegal actions in bringing their children to the U.S.
Mr. Flake would accept Mr. Trump's border wall proposal, which involves a $25 billion trust fund, though he would limit annual spending to $1.8 billion a year.
And he would also eliminate the Diversity Visa Lottery, recapturing the 50,000 annual immigration passes that are currently doled out by random chance and instead using them to reward science and technology students and investors, and to cut the backlog of family migration.
via: https://www.washingtontimes.com/news/2018/feb/13/jeff-flake-seeks-outbid-trump-amnesty-deal/