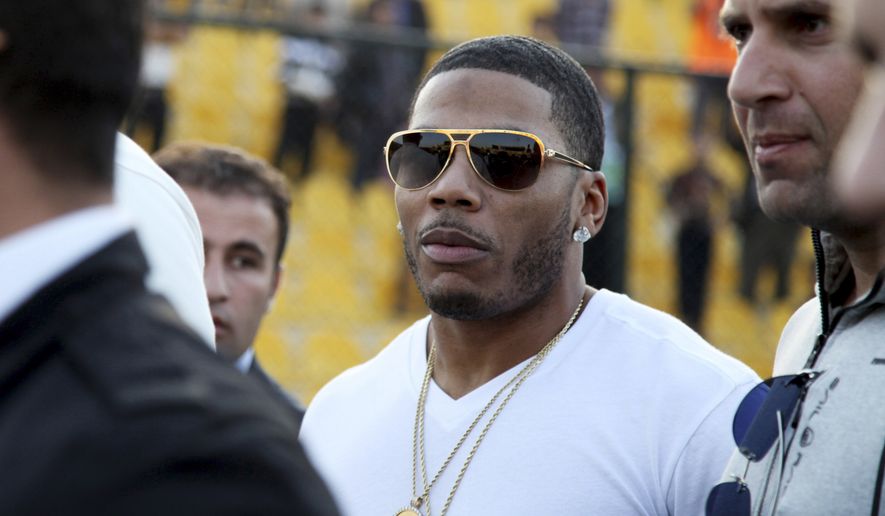 Police on Saturday arrested and released Cornell Iral Haynes Jr., the Grammy Award-winning hip-hop artist better known as "Nelly," after a woman said he raped her following his Friday night performance outside of Seattle in Auburn, Washington.
The Auburn Police Department received a phone call at 3:48 a.m. Saturday morning from a woman who said she had been sexually assaulted by the rapper on his tour bus, Auburn police spokesman Commander Steve Stocker said Saturday.
Patrol officers were dispatched to investigate and arrested the rapper inside his tour bus at 4:37 a.m., the spokesperson said. He was subsequently charged with second-degree rape, Seattle's Q13 Fox reported.
The rapper was released at about 8 a.m. Saturday morning, according to The Blast, an entertainment website the broke details of his arrest.
Nelly's lawyer, Scott Rosenblum, called the sexual assault claim "completely fabricated," The Blast reported.
"Our initial investigation clearly establishes this allegation is devoid of credibility and is motivated by greed and vindictiveness," Mr. Rosenblum said. "I am confident, once this scurrilous accusation is thoroughly investigated, there will be no charges."
"Nelly is prepared to address and pursue all legal avenues to redress any damage caused by this clearly false allegation," the attorney said.
The rapper performed earlier Friday night at the White River Amphitheater in Auburn, about 35 miles south of Seattle. He had been scheduled to make a special guest appearance afterwards at an anniversary party in downtown Seattle, according to the event's website. Police arrested him on his tour bus parked outside of a Walmart store about nine miles up the street from the amphitheater, according to the spokesperson.
Nelly, 42, released his debut album, "Country Grammar," in 2000. His follow-up record, 2002's "Nellyville," continued the lead single "Hot In Herre," a number-one hit that ultimately earned him his first Grammy Award that year in the category of Best Male Rap Solo Performance. He took home his second Grammy the following year for the song "Shake Ya Tailfeather," and has remained musically active ever since.
He's currently on tour with country group Florida Georgia Line and scheduled to perform Saturday evening in Ridgefield, Washington.
via: http://www.washingtontimes.com/news/2017/oct/7/nelly-grammy-winning-rap-artist-arrested-over-rape/?utm_source=onesignal&utm_campaign=pushnotify&utm_medium=push