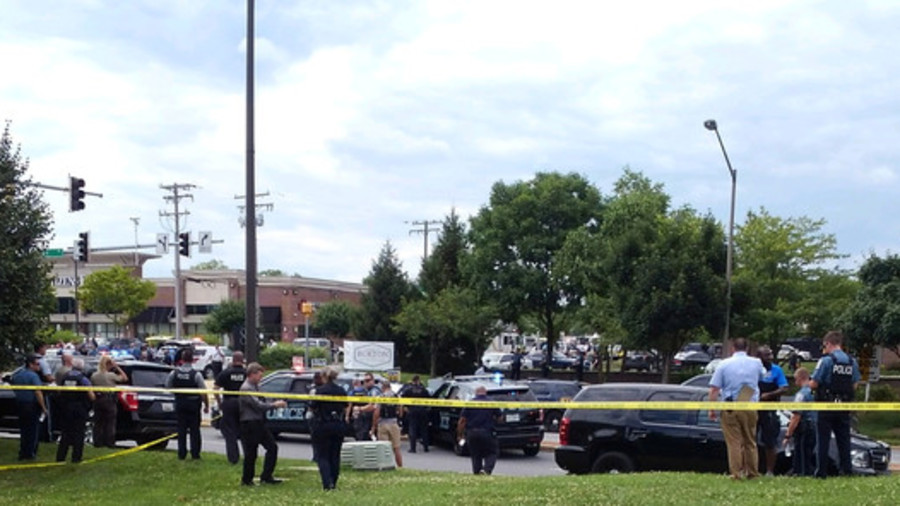 Five people have been shot dead and several more injured by a gunman at the offices of Capital Gazette, a newspaper in the Maryland capital of Annapolis. The attacker seemed to have targeted the paper deliberately, police said.
"We do have fatalities and we do have serious injuries," acting police chief Bill Krampf said. He confirmed later that five people have died, and three were injured.
The shooting was a "targeted attack" and the suspect's "intent was to cause harm," Krampf said at a press conference Thursday evening. He said that threats that "indicated violence" were sent to the Gazette this morning via social media, and that the newspaper itself seemed to be the target rather than a specific employee.
Massive police response to shooting in my newsroom in Annapolis. @capgaznews pic.twitter.com/M1Bjwa0mMh

— Joshua McKerrow (@joshuamckerrow) June 28, 2018
The shooter is in custody and being interrogated. Several news outlets have reported that the suspect is not cooperating, damaged his fingerprints in an attempt to avoid identification, and had been identified through facial recognition software.
Krampf pushed back on those reports, however. He did not identify the suspect, but said he was in his late 30s and a resident of Maryland. NBC News reported the suspect's name as Jarrod Ramos, 38, who sued the Gazette for defamation in 2012, but lost the case in 2015.
"We did recover what we thought may have been an explosive device," Krampf had said earlier in the day, in response to questions whether a grenade was found on the scene. He later clarified the object was a canister of smoke grenades, which the attacker had used inside the building.
Five people were killed and several others were "gravely injured" in a shooting at the Capital Gazette office, according to police. A shooter is in custody. https://t.co/ZTw7BuaNAk

— Capital Gazette (@capgaznews) June 28, 2018
There were multiple reports from local media that "at least four people" were been shot. Officers reportedly arrived less than two minutes after the call, cordoning off an office park on Bestgate Road in Annapolis, across the street from the Annapolis Mall. Over 170 people were safely evacuated from the building.
A single shooter shot multiple people at my office, some of whom are dead," Gazette's crime report reporter Phil Davis said on Twitter, while waiting to be interviewed by police. "There is nothing more terrifying than hearing multiple people get shot while you're under your desk and then hear the gunman reload."
Gunman shot through the glass door to the office and opened fire on multiple employees. Can't say much more and don't want to declare anyone dead, but it's bad.

— Phil Davis (@PhilDavis_CG) June 28, 2018
Early emergency scanner traffic spoke of "four deceased." Witnesses told local media the attacker was armed with a shotgun, which the police later reluctantly confirmed.
"We do have injuries. We did have an active shooter situation," Lt. Ryan Frashure, spokesman for the Anne Arundel Police Department, told reporters earlier in the day. No gunfire was exchanged between officers and the suspect, Frashure said later.
Two patients were transported to the Anne Arundel Medical Center, which was placed on lockdown for about an hour. They had with minor injuries that were not caused by gunshots, according to WJLA-TV. Police later said some of the injuries were from the glass doors the attacker destroyed.
Following speculation that the shooting may have been motivated by hostility for the media, police in Baltimore and New York City have stationed officers at newsrooms for protection.
The Baltimore Sun, which owns the Gazette, confirmed that police have visited their newsroom on Thursday afternoon.
BPD at @baltimoresun for precautionary sweep in light of Capital-Gazette incident pic.twitter.com/ZduDQAcoDS

— Justin Fenton (@justin_fenton) June 28, 2018
There has been no official information about the possible motive for Thursday's attack. The Gazette is a local newspaper that publishes community news, high school sports scores, classified ads, and other news stories of local significance.
Annapolis is a city of some 40,000 residents on the shores of Chesapeake Bay, and is the state capital of Maryland.
via: https://www.rt.com/usa/431193-maryland-newspaper-shooting-shotgun/