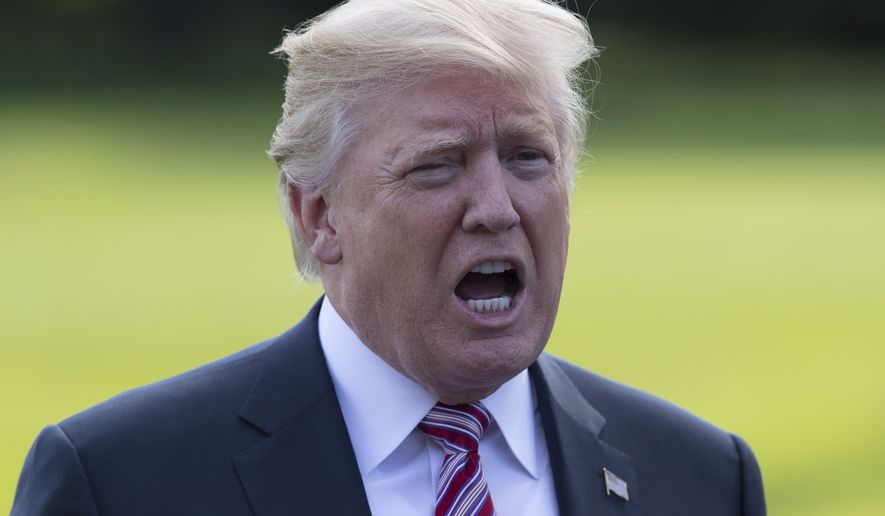 Critics tore into President Trump after he targeted the mayor of San Juan, Puerto Rico, with "Hamilton" creator Lin-Manuel Miranda among the loudest lashing back in response to the president's Saturday morning Twitter rant.
"You're going straight to hell," the acclaimed playwright of Puerto Rican heritage tweeted at the president Saturday. "No long lines for you. Someone will say, 'Right this way, sir.' They'll clear a path."
"You're going straight to hell," Mr. Miranda, 37, continued in a subsequent tweet. "Fastest golf cart you ever took."
The "Hamilton" creator and Pulitzer Prize recipient was hardly the only celebrity who took aim at Mr. Trump after the president accused Carmen Yulin Cruz, the mayor of the U.S. territory's capital and largest city, of demonstrating "poor leadership" in the wake of Hurricane Maria ravaging the island this month leaving millions of Americans without power.
"Such poor leadership ability by the Mayor of San Juan, and others in Puerto Rico, who are not able to get their workers to help. They want everything to be done for them when it should be a community effort," Mr. Trump tweeted from his New Jersey golf resort Saturday morning.
"Poor leadership would be hiding at a country club golfing while fellow Americans are suffering and dying. She's not doing that. You are," MSNBC host and former Republican congressman Joe Scarborough responded on Twitter.
Mr. Trump's tweets showed "his true self: narcissistic, petty, lacking in empathy and failing to lead," tweeted "Star Trek" actor and activist George Takei.
"The irony of Trump golfing and tweeting—saying the mayor of San Juan wants "everything to be done for them"—it's [as] thick as his skull," Mr. Takei tweeted.
Shaun King, a writer and liberal activist with a popular social-media presence, said the president's tweet targeting Ms. Cruz contained "the most horrible, racist, despicable things Trump has ever said."
"When the President of the United States says something so racist & untrue, so false, it leaves a permanent stain with those who believe him," Mr. King tweeted.
Ms. Yulin Cruz, on her part, responded in kind on social media Saturday morning without directly reacting to the president's comments.
"The goal is one: saving lives. This is the time to show our 'true colors.' We cannot be distracted by anything else," the mayor tweeted.
"I wasn't saying anything nasty about the president," Ms. Yulin Cruz told MSNBC host Joy Reid on the network's "AM Joy" program early Saturday. "I am not going to be distracted by small comments, by politics, by petty issues."
"Trump Lashes Out," "San Juan" and "#AMJoy" were among the most popular topics trending on Twitter in the U.S. early Saturday afternoon, according to the social network's own statistics.
Mr. Trump said on Twitter that 10,000 federal emergency workers have been deployed to Puerto Rico and that he plans to visit the island later this week.
via: http://www.washingtontimes.com/news/2017/sep/30/donald-trumps-attack-san-juan-mayor-triggers-heate/?utm_source=onesignal&utm_campaign=pushnotify&utm_medium=push