In yet another stunning bout of hypocrisy, Democrats currently serving in the U.S. House of Representatives revealed they have each chosen to meet with Nation of Islam leader Louis Farrakhan during their time in Congress. At least eight House Democrats have attended meetings with Farrakhan during their Congressional tenure. Yet only four chose to publicly denounce him as an anti-Semite and that was only after intense backlash, up to and including calls for their resignations. Despite Farrakhan's widely known radicalism and hatred, four House Democrats continue to refuse, resisting any and all calls to denounce Farrakhan despite pleas from Jewish civil rights groups to do so.
Farrakhan is a notorious racist, bigot, and clear anti-Semite whose continued close relationship with members of the Democratic party should give pause to anyone with even a modicum of intellect. This is a man who has previously described the likes of Adolf Hitler as a "very great man."
Farrakhan also is quoted discussing the Nation of Islam's book, "The Secret Relationship Between Blacks and Jews." The Anti-Defamation League dismisses the book garbage "filled with conspiratorial anti-Semitic propaganda."
Yet these individuals in their leadership capacity in Washington have chosen to stand at his side. If actions truly speak louder than words? Well, these actions of these Democrats are screaming for anyone that is listening.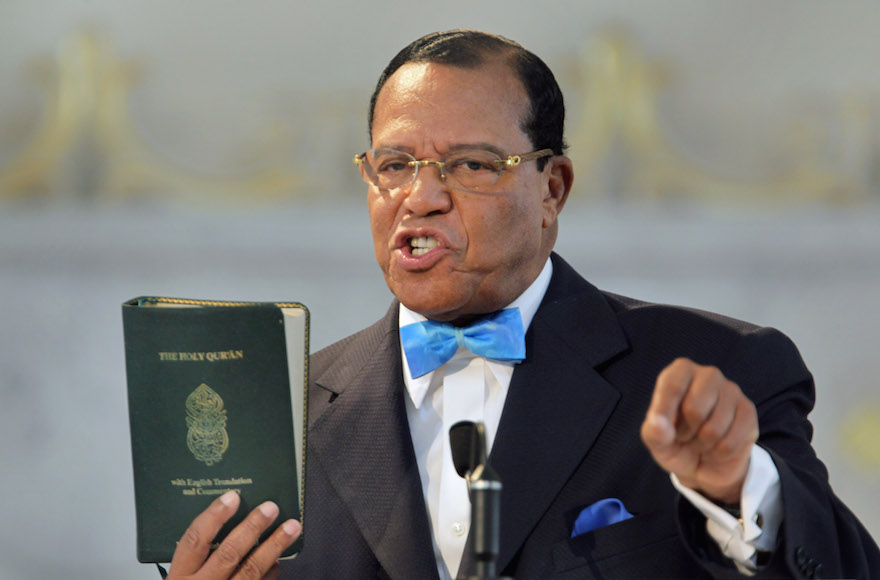 Now there is now a report emerging that reveals the ties of several House Democrats to Farrakhan are even closer than the American people have been previously led to believe up to and including current Democratic National Committee (DNC) deputy chair Keith Ellison.
Farrakhan's relationship with many members of the Congressional Black Caucus (CBC) has recently emerged on the forefront of the scene for multiple reasons. Notably, Ellison led the American people to believe that his relationship with Farrakhan ended back in 2006…except it did not as Ellison attended multiple meetings with Farrakhan by his side during his tenure in Congress.
The Daily Caller speaks of how Ellison has attempted for years to downplay his ties to Farrakhan stating –
"Ellison has repeatedly portrayed his relationship with Farrakhan and the Nation of Islam as non-existent since he first ran for Congress in 2006. 'Man, I'm telling you back in 2006 and before, I disavowed them. That's the ridiculous thing about this, that we keep on having to answer this kind of stuff,' Ellison told MSNBC's "Morning Joe" in December 2016.
The facts tell a different story. Ellison attended at least three meetings with Farrakhan during his time in Congress, The Daily Caller reported in February. Ellison may have denounced Farrakhan 12 years ago, but the facts show he continued privately meeting and associating with Farrakhan long after he denounced him.
The Washington Post's Glenn Kessler fact-checked Ellison's claim to have cut off his relationship with Farrakhan by 2006. Kessler awarded Ellison's claim "Four Pinnochios" — the worst possible fact-check rating, which the Post reserves for 'whoppers.'"
After Barack Obama's presidency ended and conveniently when it would no longer hurt Obama politically, Nation of Islam photographer revealed a 13-year-old photo of Obama while he was serving as Senator of the state of Illinois smiling with Farrakhan at a CBC meeting back in 2005.  The photographer stated the CBC specifically asked him to suppress the photo so as to not damage Obama's presidential aspirations.
The Daily Caller reports 21 current House Democrats were in the CBC when Farrakhan had his meeting with the caucus. Rep. Danny Davis (D-IL) described Farrakhan as an "outstanding human being" and speaks of regular visits with Farrakhan.
Leaders of the Women's March have also come out in support for Farrakhan as well as other rabidly anti-Semitic, anti-Christian, anti-American individuals. Notably, Farrakhan gave a rabidly anti-Semitic speech alongside Women's March leader Tamika Mallory.
The Washington Times reported on the fallout for Mallory and cries to denounce Farrakhan that appear to have fallen on deaf ears, stating –
"'Tamika Mallory, one of the March organizers, was in the audience, and got a special shout-out from Farrakhan,' said the Anti-Defamation League in a Feb. 26 report. 'Mallory posted two Instagram photos from the event, which Carmen Perez, another Women's March organizer, commented on with 'raise the roof' emojis.'
 After two weeks of scathing publicity, Ms. Mallory 
issued
 a statement Wednesday saying that she has 'heard the pain and concern' of her fellow activists, but that 'wherever my people are is where I must be.'"
Mallory went on to suggest that Farrakhan's anti-Semitism made him like Jesus. To date, neither the Women's March nor Mallory has ever denounced Farrakhan.
Of those that refuse to denounce Farrakhan, the usual suspects emerge, including –
Rep. Maxine Waters (D-CA) who attended a convention in 2005 for the Nation of Islam where Farrakhan was heard rabidly railing against the Jewish people and leaping to the defense of Palestinian suicide bombers. Farrakhan spoke of Waters' attendance during that same speech praising Waters as "our great congresswoman from this area." The audience burst into applause. There is also footage from 2006 showing members of the CBC including Waters greeting Farrakhan fondly with hugs and handshakes, as well as standing to speak with him for a lengthy period of time.
Image Credit – Tammy Bruce
Rep. James Clyburn (D-SC) while serving as the Assistant House Minority Leader shared a stage with Farrakhan in 2011.  Clyburn dismissed all criticisms and stated "not bothered in the least bit" by the critics to Final Call — a publication for the Nation of Islam. Clyburn then released a recent statement in which he refused to condemn Farrakhan in either his words or his actions, stating he stands by his 2011 decision to shrug off criticisms of Farrakhan, proclaiming – "I have fought all my life to advance the cause of social justice and equality, and I have always opposed bigotry in all its forms."
Rep. Andre Carson (D-IN) has been pictured and has publicly admitted to attending multiple meetings with Farrakhan over the years of his time serving in Congress. Carson attended a 2013 dinner hosted by Iranian President Hassan Rouhani along with Rep. Gregory Meeks (NY-D) and Rep. Keith Ellison (D-MN) where Farrakhan spoke.  Meeks publicly denounced his association with Farrakhan but only after weeks of significant backlash.
Carson states of his association with Farrakhan in an interview with WIBC – "I have met with him, as have other members of the (CBC). Talking about anti-crime efforts, discrimination against women and those kinds of things. But I condemn any kind of discrimination, and I've been consistent."
Rep. Al Green (D-TX) met with Farrakhan along with Waters at the 2006 event where Green was seen warmly embracing Farrakhan. To date, Green's office has not returned any calls with comment regarding his current relationship with Farrakhan.
via: https://daily-vine.com/heres-the-4-dems-who-openly-met-with-racist-farrakhan-and-still-wont-denounce-him/