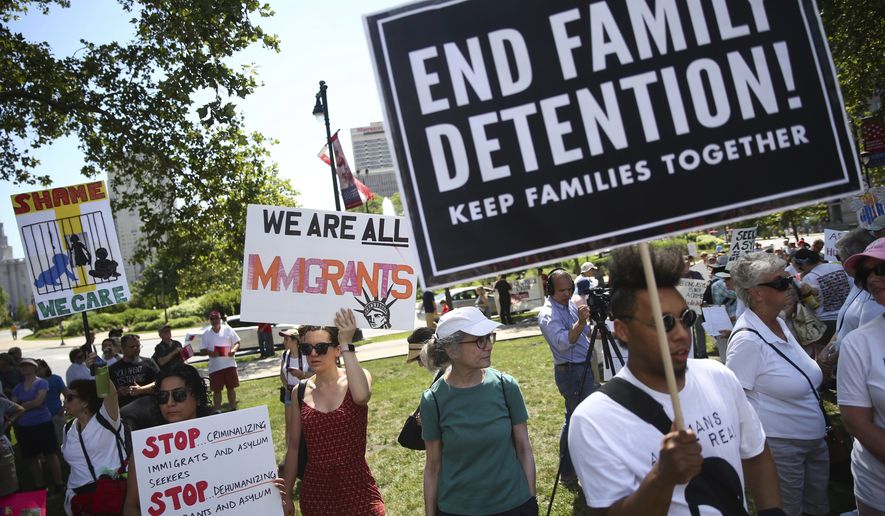 Every illegal immigrant parent whose child was separated at the border has now been able to at least speak by telephone, the government said in a new court filing Friday.
And some parents have already been moved to new detention facilities to put them closer to where their children are being held, preparing for final unification and, in many cases, release from custody.
"In many cases ICE will release the parent on Alternatives to Detention (ATD) to enable reunification to be completed," Robert Guadian, a top official at U.S. Immigration and Customs Enforcement, said in a sworn declaration.
That signals that catch-and-release — the policy the Trump administration had been trying to stop — remains in effect as the government scrambles to deal with the aftermath of family separations.
Mr. Guadian provided details hours before a key hearing where the government will defend its slow progress in reuniting nearly 3,000 children who may have been separated from their parents in the wake of President Trump's zero tolerance policy.
Some 300 criminal background summaries have already been prepared on the parents to make sure they aren't a danger to their children. Some parents have already been flagged for drug offenses, assault, rape, robbery, kidnapping and domestic violence — convictions that would prevent them from being able to take custody, Mr. Guadian said.
via: https://www.washingtontimes.com/news/2018/jul/6/ice-set-free-illegal-immigrants-comply-judge/