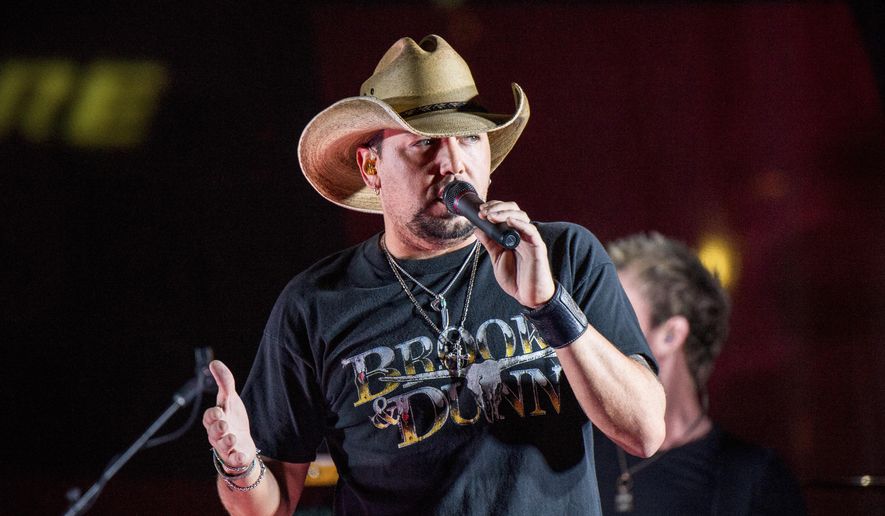 Jason Aldean, the country music star whose concert ended in bloodshed Sunday night in Las Vegas, put out a new statement Tuesday saying the world is "becoming the kind of place I am afraid to raise my children in."
Mr. Aldean, a father of two with a third on the way, was performing onstage at the Route 91 Harvest music festival when a gunman opened fire on the audience from the 32nd floor of the Mandalay Bay Resort and Casino, killing 59 people and injuring more than 500 others.
"Over the last 24 hrs I have gone through lots of emotions," the singer wrote in an Instagram post. "Scared, Anger, Heartache, Compassion and many others. I truely dont understand why a person would want to take the life of another.
"Something has changed in this country and in this world lately that is scary to see," he said. "This world is becoming the kind of place i am afraid to raise my children in."
Mr. Aldean said now more than ever is the time for Americans to come together and "stop the hate."
"At the end of the day we arent Democrats or Republicans, Whites or Blacks, Men or Women," he wrote. "We are all humans and we are all Americans and its time to start acting like it and stand together as ONE! That is the only way we will ever get this Country to be better than it has ever been, but we have a long way to go and we have to start now."
Mr. Aldean took to Instagram in the immediate aftermath of Sunday's shooting to alert fans that he and his crew were safe.
"Tonight has been beyond horrific," he said. "I still dont know what to say but wanted to let everyone know that Me and my Crew are safe. My Thoughts and prayers go out to everyone involved tonight. It hurts my heart that this would happen to anyone who was just coming out to enjoy what should have been a fun night."
via: http://www.washingtontimes.com/news/2017/oct/3/jason-aldean-i-am-afraid-to-raise-my-children-in-t/