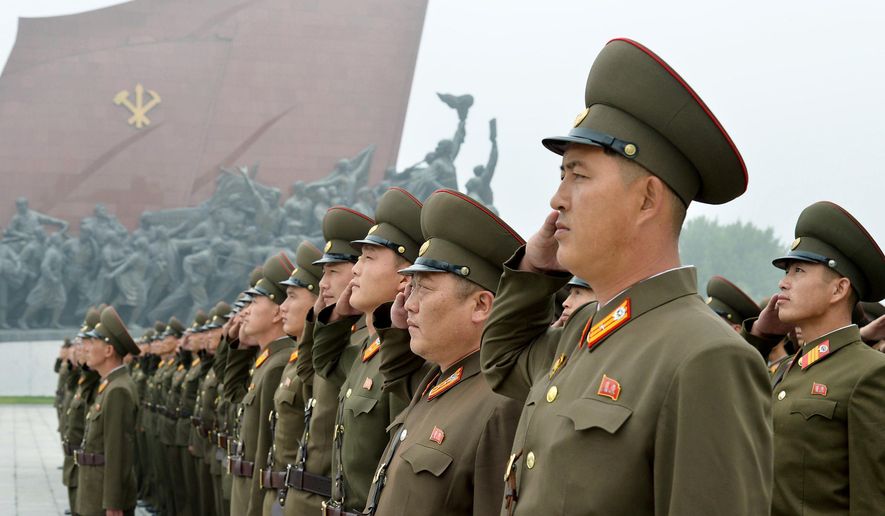 Sen. John McCain says the United States must "seriously consider" redeploying nuclear weapons in South Korea due to the threat posed by North Korea and its expanding nuclear capabilities.
"By the way, the Korean defense minister just a few days ago called for nuclear weapons to be redeployed," Mr. McCain said Sunday on CNN's "State of the Union." "We had them once in South Korea."
"Do you think the U.S. should do that?" anchor Jake Tapper asked.
"I think it ought to be seriously considered," Mr. McCain responded.
He said the U.S. should expand its missile defense capabilities in South Korea and Japan.
In other words, make sure that if Kim Jong Un acts in an aggressive fashion, the price will be extinction."
The Arizona Republican called for increased intervention into the situation from China and said the U.S. should use its massive trade with China as leverage.
"Obviously China can put the brakes on Kim Jong-un," he said. "So far they have not. In fact, in some ways, they have increased their assistance."
Mr. McCain said he does not believe the North Korean dictator is rational.
"I think that Kim Jong-un is not rational," he said. "I know that he's rational to the degree that he wants to confront the United States of America. But I think, more importantly, if you allow him to have nuclear weapons and South Korea and Japan and others, who are under our 'nuclear umbrella,' don't, I think that's not balanced."
via:http://www.washingtontimes.com/news/2017/sep/10/john-mccain-senator-redeploying-nuclear-weapons-in/