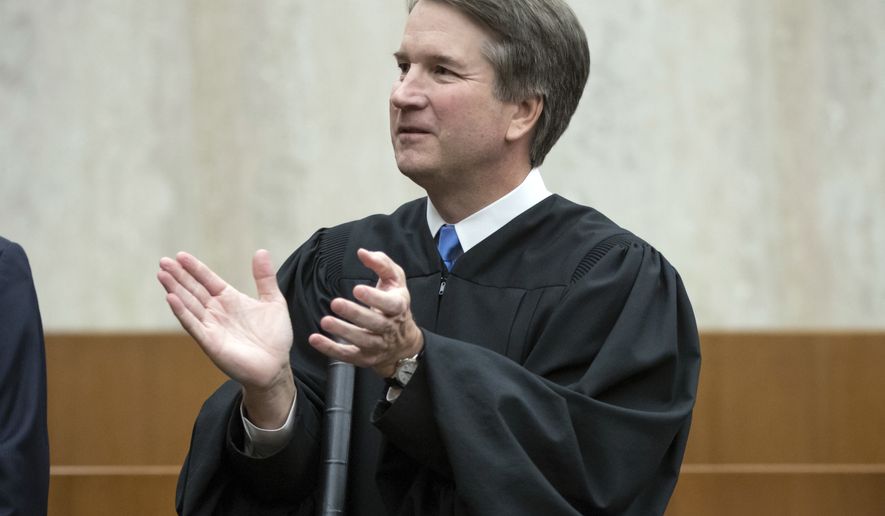 Republicans said Friday they've scheduled Judge Brett Kavanaugh for a confirmation hearing Sept. 4, moving ahead with a speedy schedule that could still see him confirmed in time to be on the Supreme Court before October.
Judiciary Committee Chairman Charles E. Grassley announced the hearing, saying there's plenty of information out there for senators to evaluate the judge without waiting for potentially millions of pages of documents from the National Archives.
"It's time for the American people to hear directly from Judge Kavanaugh at his public hearing," Mr. Grassley said.
If the hearing follows past practice it will involve the judge sitting for a day or two of questions, then his fans and detractors will get at least a day to talk about why he should or shouldn't be confirmed.
The committee would then the judge a week to answer written questions, then schedule a vote — which under panel rules would likely take place the second week after the written answers are received.
Once the nomination clears committee it can go to the chamber floor, where Democrats can delay it with an attempted filibuster — but cannot stop it unless they can win over some Republicans.
If the GOP holds to that schedule Judge Kavanaugh may be seated on the high court by Oct. 1, when it begins its new term for 2018-2019.
Senate Majority Leader Mitch McConnell had signaled that goal earlier in the day in an interview with WKDZ radio.
"He'll get confirmed. It won't be a landslide, but he'll get confirmed," the senator said.
Judge Kavanaugh was nominated to fill the seat of retired Justice Anthony M. Kennedy. He was nominated a month ago.
Senate Democrats have complained that they don't know enough about the background of Judge Kavanaugh, who has been a Washington figure for decades, including time as part of the independent counsel's office in the 1990s probing the Clintons, and then in the Bush White House.
Democrats have demanded release of millions of pages of documents from the judge's time in the White House from 2001 to 2006, and have said there should be no confirmation hearing, much less a vote, until those papers are produced.
The National Archives has said it would take until late October before even a smaller subset of the documents could be released.
The GOP's schedule signals they're not going to wait.
They said Democrats can evaluate the 12 years of rulings Judge Kavanaugh amassed since being confirmed to the circuit court of appeals in D.C.
Democrats said that's not good enough, and said Republicans must be trying to hide something in the judge's background.
"This is unprecedented and unfair to the American people," said Sen. Richard Durbin, Illinois Democrat. "The American people deserve to know the true story of the man seeking a lifetime appointment to the highest court in the land."
White House spokesman Raj Shah said of the development, "With the Senate already reviewing more documents than for any other Supreme Court nominee in history, Chairman Grassley has lived up to his promise to lead an open, transparent and fair process. Judge Kavanaugh looks forward to addressing the Judiciary Committee in public hearings for the American people to view."
via: https://www.washingtontimes.com/news/2018/aug/10/kanavanaugh-confirmation-hearing-set-sept-4/