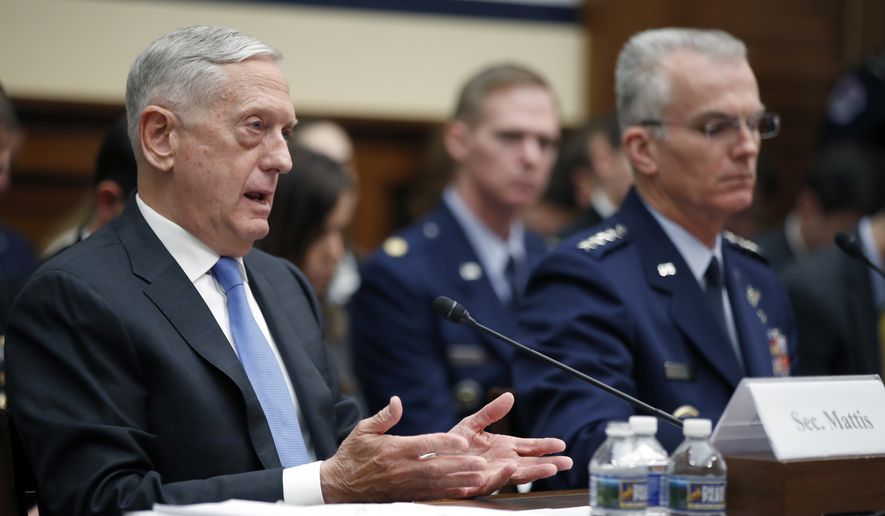 Defense Secretary James Mattis issued a stark warning to Congress on what would be at stake for U.S. defense and national security, should lawmakers fail to fully fund the Pentagon's coffers for this fiscal year.
Testifying before the House Armed Services Committee on the department's new Nuclear Posture Review, Mr. Mattislaid out the consequences of a military financed by temporary spending measures, as opposed to a permanent defense spending package.
"I know that in time of a major war, Congress will provide our military with what it needs," Mr. Mattis told lawmakers Tuesday, according to written testimony provided to the House panel.
"But money at the time of crisis fails to deter war, and you know we would at that point have no time to prepare, as it takes months and years to produce the munitions, training, and readiness required to fight well," he warned.
The Pentagon is seeking $700 billion for fiscal 2018 and $719 billion the following fiscal year to finance day to day department operations, as well as current combat operations overseas.
Mr. Mattis' comments come as debate on Capitol Hill presses on over approving a continuing resolution to finance defense spending and other segments of the federal government. The current continuing resolution is set to expire on Feb. 8.
Ongoing debate remains focused on immigration and other domestic issues, while the Pentagon and armed services continue to struggle with the ongoing budget uncertainty, Mr. Mattis said.
"To carry out the strategy you rightly directed we develop, we need you to pass a budget now," he said. "I ask that you not let disagreements on domestic policy continue to hold our Nation's defense hostage."
via: https://www.washingtontimes.com/news/2018/feb/6/mattis-warns-congress-over-delayed-defense-funding/