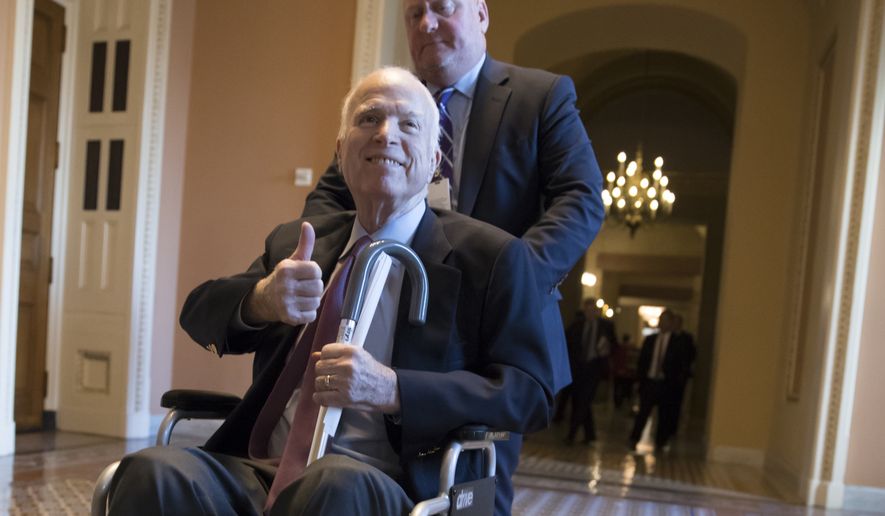 The Homeland Security Department said Wednesday that the immigration plan sponsored by Sen. John McCain and being backed as Democrats' chief solution for illegal immigrant "Dreamers" would grant criminals a path to citizenship and protect high school gang members from deportation.
The department also said Mr. McCain's plan, which is now pending on the Senate floor as Democrats' ante in the immigration debate, would invite "widespread fraud," allowing illegal immigrants to attest to their own qualifications.
The harsh evaluation comes as the Senate enters its third day of debate on immigration, without holding a single vote yet on any proposals.
Republicans tried to push a vote to crack down on sanctuary cities, but Democrats have refused, saying it's outside the scope of what they will allow.
They want the debate to focus as much as possible on granting legal status to Dreamers, with a small down payment on border security included.
Mr. McCain's bill, which he's sponsoring with Sen. Chris Coons, Delaware Democrat, would couple an exceptionally generous amnesty for perhaps 3 million illegal immigrants with calls for a new study of border security and a promise to follow through on those recommendations by 2021. The McCain plan would also direct more foreign aid to Central America.
Homeland Security said there's no need for another study, saying they've looked at the issue repeatedly and already have a plan in place. They said that's the backbone of President Trump's immigration framework.
"The McCain-Coons proposal does not authorize a single penny for appropriations for border security, ensuring that our nation's border is never secured or our national security protected," Homeland Security said in a memo.
via: /www.washingtontimes.com/news/2018/feb/14/mccain-immigration-plan-legalizes-criminals-dhs/