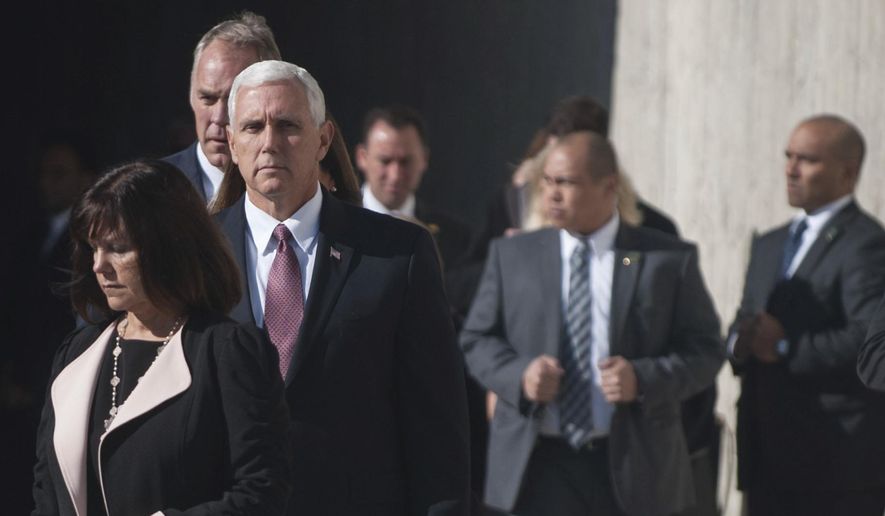 A National Guardsman has been sentenced in federal court for threatening to kill Vice President Mike Pence prior to his appearance last fall at a September 11 memorial service in Shanksville, Pennsylvania.
U.S. District Judge Kim Gibson on Friday sentenced William Dunbar, 23, to six months in prison to be followed by six months of home confinement and three years of federal probation, according to court reporters.
Dunbar already spent six months behind bars awaiting sentencing and was released Friday to finish the home confinement segment with his family, Somerset County's Daily American reported.
"Bill is obviously very remorseful," defense attorney Matthew Zatko told the newspaper following Friday's sentencing hearing in Johnstown federal court. "It was very telling when he told the court that his whole life he dreamed of being a soldier and the most difficult thing about this is he won't be able to wear a military uniform again."
Dunbar pleaded guilty in December to making threats against Mr. Pence prior to his address at an annual memorial service in Shanksville, southeast of Pittsburgh, held in observance of the Flight 93 crash on Sept. 11, 2011.
"If someone pays me enough money, I will kill the vice president," Dunbar had boasted around the Army National Guard Training Center days before Mr. Pence's appearance, according to authorities.
At least three witnesses had said they heard Dunbar specifically state he would kill the vice president, prosecutors wrote in court documents. He was arrested and initially charged in state court with terroristic threats and related charges, but those counts were dismissed after the Justice Department filed a criminal complaint alleging federal violations.
Dunbar denied the charge at first but ultimately pleaded guilty to one count of making a threat against the vice president of the United States – a felony under U.S. Code Title 18, Section 871.
He had faced up to four years in federal prison, the Daily American reported.
Flight 93 was one of four airplanes hijacked by Al-Qaeda terrorists during the Sept. 11 attacks. Thirty-three passengers, seven crew members and four hijackers died when the plane crashed in a field near Shanksville, Pennsylvania. Nearly another 3,000 perished as result of tandem attacks conducted against the World Trade Center in Manhattan and the Pentagon outside of Washington, D.C.
via: https://www.washingtontimes.com/news/2018/mar/10/william-dunbar-national-guardsman-sentenced-threat/