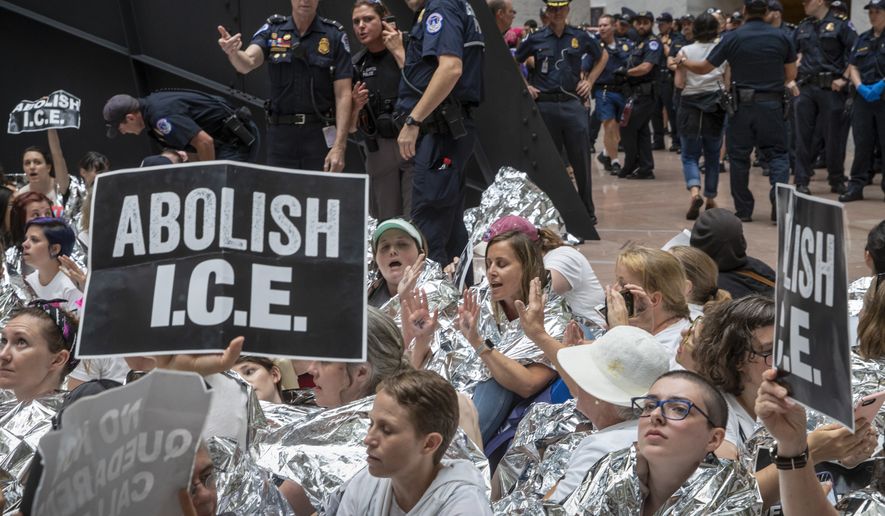 The federal government will have to cut corners on safety checks in order to meet a federal judge's "extreme" deadlines to reunify families separated at the border, according to U.S. Health and Human Services Secretary Alex Azar.
None of the children separated have yet been reunited with their illegal immigrant parents still in government custody, Mr. Azar said Thursday, though he said they will meet the court's deadlines.
The 100 or so children under 5 years of age who were separated by government authorities must be reunited by Tuesday. As many as 2,900 other children between 5 and 17 years of age must be reunited by July 26.
The government has had to turn to DNA testing to confirm parents' relationship with the children, the government said. The goal is to weed out bogus claims by people who aren't related to the children but are trying to get a hold of them anyway.
DNA testing is faster than the usual process of birth certificates and other family documents, but even still, the government won't be able to do all of the usual safety checks buy the deadline.
"We will comply even if those deadlines prevent us from conducting our standard, or even a truncated vetting process," Mr. Azar told reporters.
The secretary said he's surged manpower to meet the court orders.
The Office of Refugee Resettlement, the division of Health and Human Services responsible for caring for Unaccompanied Alien Children (UAC), has 11,800 in its dorms and shelters.
HHS officials have reviewed every single case to determine who might fall under the judge's order.
Most of the 11,800 are tradition UAC whose parents sent them to the border, or who came on their own, without any parent. But as many as 3,000 of them show some indication they may have been traveling with a parent and could be subject to the order for speedy reunification.
As the government does its checks, it's already come across two purported parents who according to background checks had child cruelty, rape or kidnapping histories that make them unsuitable to take custody of children, Mr. Azar said.
Those are the sorts of cases they're trying to avoid as they do the DNA and suitability checks — a process the secretary said the government is having to truncate to meet the judge's order.
"We have to protect children from people who would prey on them," he said.
via: https://www.washingtontimes.com/news/2018/jul/5/no-children-reunited-yet-border-separations/