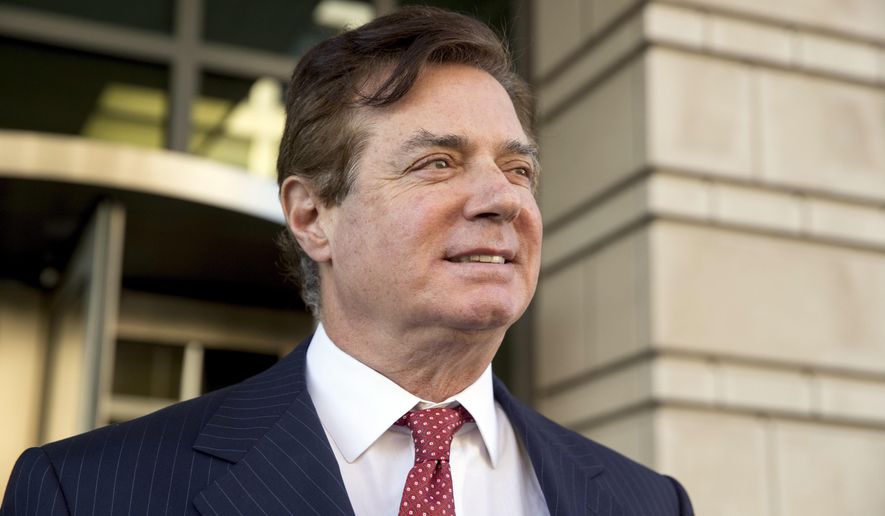 Former Trump campaign manager Paul Manafort has reached a bail compromise with the special counsel that could end his house arrest and GPS monitoring in exchange for pledging to forfeit $11 million worth of property if he violates release conditions.
A motion to modify the conditions of Mr. Manafort's release was filed in court Thursday by his attorney and indicates that the modifications were reached in conjunction with special counsel Robert Mueller's legal team.
A federal judge would still have to sign off on the proposal but under the agreement, Mr. Manafort would no longer be subject to house arrest or GPS monitoring. He could travel to Florida, New York, Virginia and Washington, D.C., but would need prior court approval to travel elsewhere inside the United States.
International travel would not be allowed under the terms of his release. Mr. Manafort has already turned over his passports to authorities, but his wife, who has not been criminally charged, would also voluntarily surrender her passport as part of the agreement.
In exchange for more freedom, Mr. Manafort would agree to forfeit four properties worth a collective $11.65 million. The properties include his Alexandria home, worth $2.7 million; a $4 million residence in Bridgehampton, New York; a $1.25 million Palm Beach Gardens, Florida home; and a Manhattan condo worth $3.7 million.
"The OSC has agreed that the properties posted provide the reasonable assurance required under the Bail Reform Act," Mr. Manafort's attorney Kevin Downing wrote. "Liens will be placed on each property in favor of the court to reasonable assure Mr. Manafort's appearance as required."
Mr. Mueller's team brought charges against Mr. Manafort and his top deputy, Richard Gates, last month as part of his investigation into Russian interference in the 2016 election and possible cooperation with members of the Trump campaign.
The charges filed against Mr. Manafort and Mr. Gates were not connected to their work for the Trump campaign, rather the charges stemmed from their failure to report years of lobbying activity done on behalf of a Ukrainian political party and the laundering of money received for the work.
Both men were ordered held on home confinement and have been trying in recent weeks to get the conditions of their release modified to allow for more freedom.
U.S. District Judge Amy Berman Jackson previously rejected Mr. Gates' motion to modify his conditions of release, writing that he had "not yet identified the assets he could offer as security" for his release.
The judge will still have to sign off on Mr. Manafort's proposed conditions of release. She previously expressed skepticism at taking either of the men off of GPS monitoring.
via: https://www.washingtontimes.com/news/2017/nov/30/paul-manafort-proposes-11-million-bail-agreement-e/