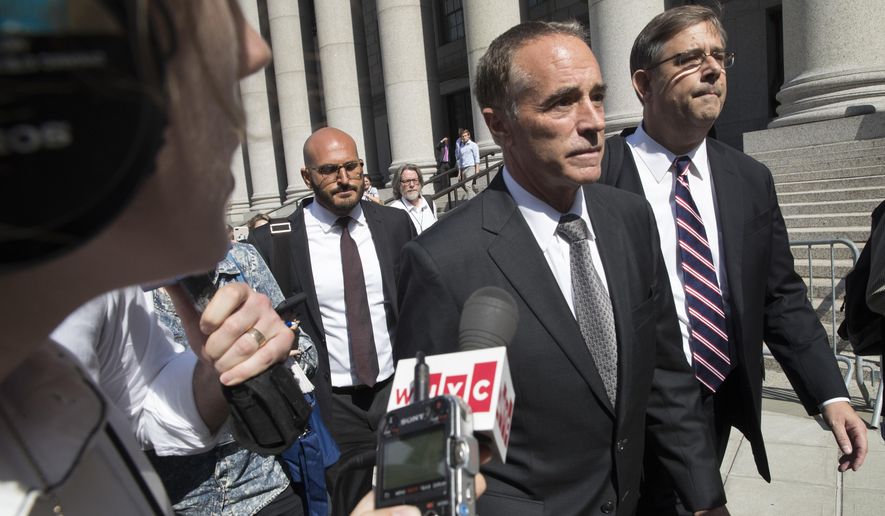 Rep. Chris Collins announced Saturday he is suspending his re-election campaign days after getting arrested on charges of insider trading.
The New York Republican has been one of President Trump's staunchest supporters on Capitol Hill.
"After extensive discussions with my family and my friends over the last few days, I have decided that it is in the best interest of the constituents of NY-27, the Republican Party and President Trump's agenda for me to suspend my campaign for re-election to Congress," Mr. Collins said in a statement.
The FBI on Wednesday arrested Mr. Collins, accusing him of dumping stock of a pharmaceutical company for which he was a board member and the biggest shareholder after learning that the clinical testing on a key drug turned out to be a complete "failure." The FBI says his family saved $760,000 through the stock sale.
Democrats have pounced on the news, saying the charges are more evidence of a culture of corruption that infected the GOP since President Trump took office, and saying they will do better if given the chance to run the House.
Mr. Collins called the charges "meritless," vowed to clear his name, and suggested he didn't want to become a distraction in the high stakes election this fall, where control of Congress is on the line.
"Democrats are laser focused on taking back the House, electing Nancy Pelosi Speaker and then launching impeachment proceedings against President Trump," Mr. Collins said in a statement. "They would not nothing more than to elect an 'Impeach Trump' Democrat in this District, which is something that neither our country or my party can afford."
via: https://www.washingtontimes.com/news/2018/aug/11/chris-collins-new-york-republican-suspends-campaig/