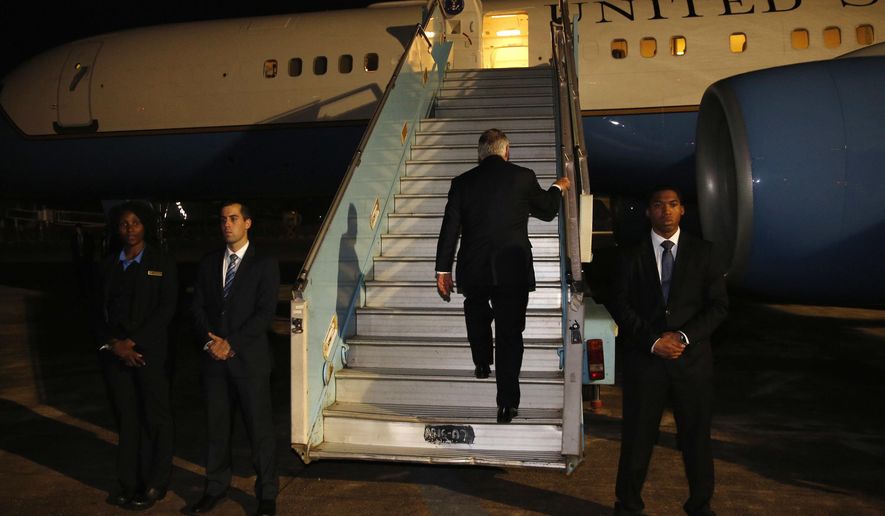 Sacked Secretary of State Rex W. Tillerson said Tuesday he will stay on the job through March 31 and urged his sworn assistants to "remain at their posts" through the transition to his successor Mike Pompeo.
In a post-firing news briefing from the State Department, Mr. Tillerson thanked staffers for "promoting values I think are important."
He also hailed their work while "treating each other with honesty and integrity and respect for one another."
"I'm proud of the opportunity to serve my country," he said.
President Trump fired Mr. Tillerson unceremoniously Tuesday and replaced him with CIA Director Mike Pompeo.
"Mike Pompeo, Director of the CIA, will become our new Secretary of State. He will do a fantastic job!" the president tweeted. "Thank you to Rex Tillerson for his service!"
Speaking to reporters at the White House as he departed for California, Mr. Trump said he and Mr. Tillerson had numerous disagreements over the past 14 months.
"Rex and I have been talking about this for a long time," the president said. "We disagreed on things, like the Iran [nuclear] deal. I think it's terrible. I guess he thought it's OK. I wanted to either break it or do something, and he felt a little bit differently. We were not really thinking the same. It was a different mindset."
The president added, "I think Rex will be much happier now."
The announcement came barely four hours after Mr. Tillerson returned to Washington a day early from a diplomatic mission to Africa. A Tillerson spokesman said the president never explained to Mr. Tillerson the reason he was fired, and that Mr. Tillerson had wanted to stay on the job.
via: https://www.washingtontimes.com/news/2018/mar/13/rex-tillerson-urges-state-department-officials-to-/