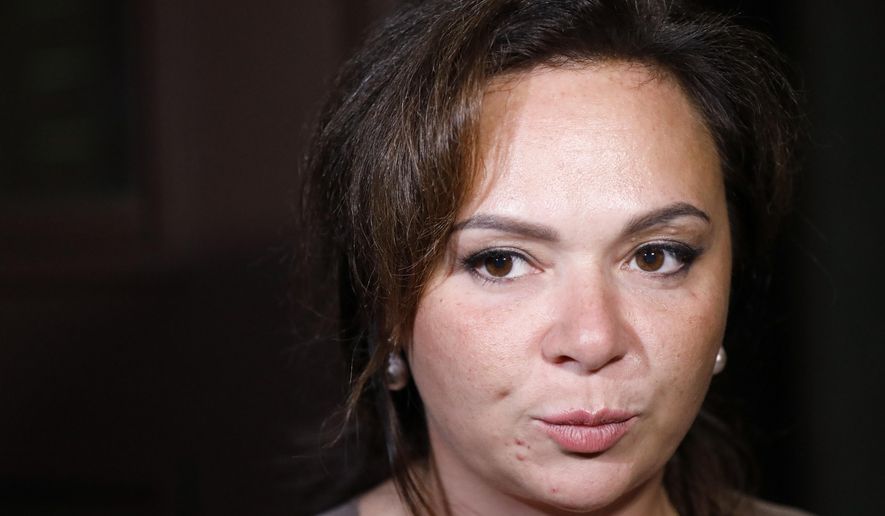 The Russian lawyer whose June 2016 meeting with Donald Trump Jr. and other top Trump campaign officials has become a prime focus of the Russian election collusion probe is denying the meeting involved Hillary Clinton or the U.S. campaign, adding the congressional probes into the scandal are not interested in hearing her side of the story.
In a 10-minute interview on the Russian news program Vesti, Natalia Veselnitskaya said she sought the meeting as part of her efforts to help Russian businessman Denis Katsyv, a client who was accused of money laundering after the U.S. imposed new financial sanctions on Moscow in 2012.
"It was a private meeting," Ms. Veselnitskaya told the interviewer, according to an account Friday in the Moscow Times. "I asked for help — help to get out a story I had come across in my professional capacity."
The meeting "had nothing to do with [then-candidate Donald Trump's] rivals or the presidential election," she added. "That never happened. That's not true."
The meeting has attracted enormous attention because the email exchange between Mr. Trump Jr. and the British publicist who hekoed arranged the meeting described Ms. Veselnitskaya as a "Russian government lawyer" who could provide"some official documents and information that would incriminate Hillary and her dealings with Russia
and would be very useful to your father."
Paul Manafort, Mr. Trump's campaign manager at the time, and Jared Kushner, a campaign adviser and Mr. Trump's son-in-law, also attended at least part of the meeting. They have denied that any incriminating information was given or that there was any follow-up to the meeting.
via: http://www.washingtontimes.com/news/2017/aug/4/russian-lawyer-gives-account-trump-meeting/?utm_source=onesignal&utm_campaign=pushnotify&utm_medium=push