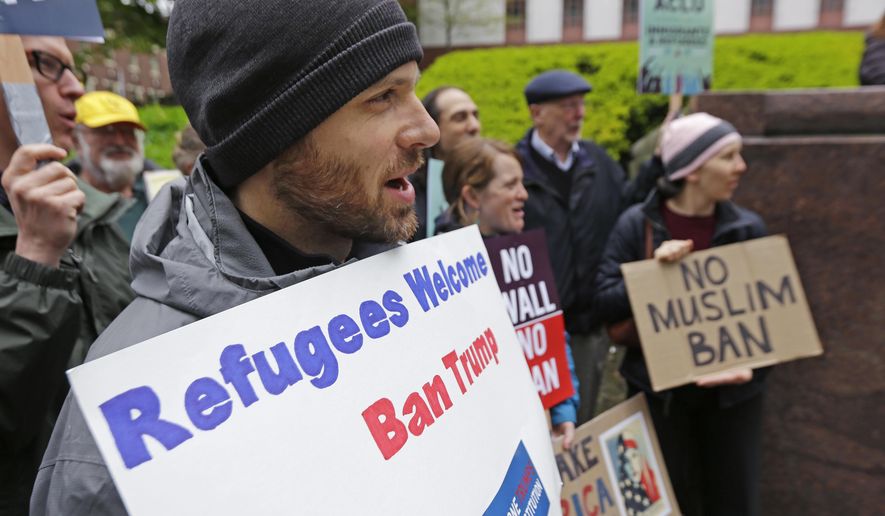 The Supreme Court said Tuesday that part of President Trump's travel ban could remain in effect, in a move that temporarily keeps some 24,000 refugees from being able to enter the U.S.
In a brief order, the high court said it was continuing a stay of a 9th U.S. Circuit Court of Appeals ruling that had tried to force Mr. Trump to limit his refugee ban.
The stay means that refugees whom the U.S. has assigned to a resettlement agency, but who haven't been admitted yet, can be blocked.
Earlier in the day Hawaii had asked the court to uphold the 9th Circuit ruling, saying that refugees who have had their cases assigned to resettlement agencies now have a "bona fide" relationship with an entity in the U.S. That, Hawaii said, should qualify them for an exemption to Mr. Trump's travel ban.
The 9th Circuit ruling had been set to take effect Tuesday.
The Trump administration has for months been battling to defend the president's executive order, which was intended to pause for 90 days all entry to the U.S. from six countries identified as high risks for terrorist travel and for 120 days all refugee admissions.
After a lengthy battle in lower courts, which saw judges repeatedly block the travel ban, the Supreme Court ruled in June that much of the ban could go into effect.
But the justices did say that would-be immigrants and visitors who have a "bona fide" relationship with people or entities in the U.S. had rights that must be accounted for. They said the administration couldn't prevent their travel to the U.S.
The justices declined to define what constituted such a close relationship, setting off a new round of litigation.
The administration said that when it came to family relationships, only parents, spouses, children and fiancé relationships counted as "close" enough to qualify for the exemption.
That was overruled by a judge in Hawaii and then by the 9th Circuit, which said grandparents, aunts, uncles and cousins all qualified.
The 9th Circuit also said refugees whose cases are being worked on by resettlement agencies in the U.S. must be admitted. The ruling would have paved the way for about 24,000 refugees to enter the U.S.
Hawaii's attorneys argued that the refugees had a right to enter at this point, since their cases were far enough along in the process.
"The lower courts have simply applied this Court's standard to protect vulnerable refugees and the American entities that have been eagerly preparing to welcome them to our shores," the attorneys wrote.
They encouraged the Supreme Court to leave the 9th Circuit ruling in place, arguing that the question under review will become moot after the court hears broader arguments on the legality of the travel ban on Oct. 10.
via: http://www.washingtontimes.com/news/2017/sep/12/supreme-court-allows-trump-continue-ban-most-refug/?utm_source=onesignal&utm_campaign=pushnotify&utm_medium=push