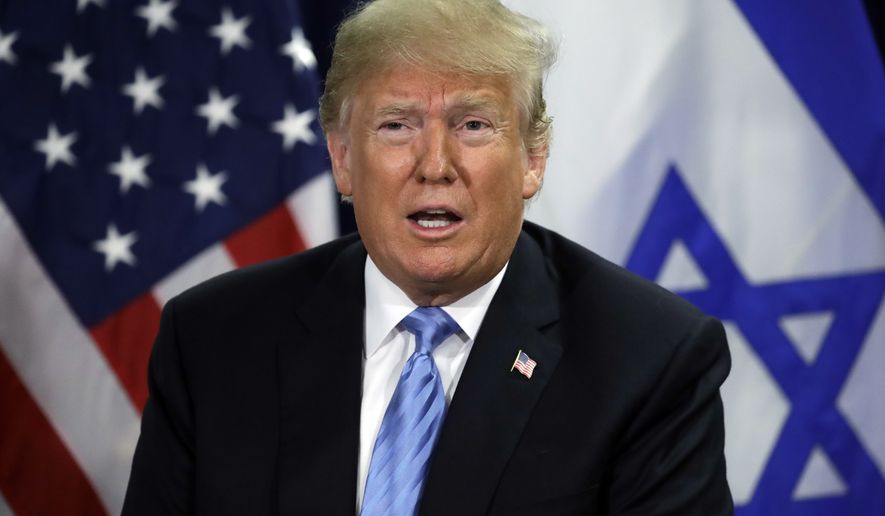 UNITED NATIONS — President Trump accused China of "attempting to interfere" in the upcoming U.S. midterm elections as he chaired a high-stakes meeting of the U.N. Security Council here Wednesday, asserting the Chinese government is bent on meddling in American politics out of frustration over his administration's bare-knuckle trade posture toward Beijing.
"China has been attempting to interfere in our upcoming 2018 election, coming up in November against my administration," Mr. Trump said. "They do not want me or us to win because I am the first president ever to challenge China on trade, and we are winning on trade — we are winning at every level."
"We don't want to them to meddle or interfere in our upcoming election," he said, breaking from protocol at the traditionally highly scripted Security Council.
Chinese Foreign Minister Wang Yi appeared to shrug as the president made the accusation, which comes at a moment of heightened tension between Washington and Beijing following a wave of heated trade negotiations that have been a signature of Mr. Trump's foreign policy over the past year.
In his own statement to the session later, Mr. Wang appeared to break from his prepared statement at the end to deny what he called the "unwarranted" U.S. accusation of election-meddling.
China "did not and will not interfere with any country's domestic affairs," Mr. Wang said.
The administration has leveled hundreds of billions of dollars in tariffs against a wide range of Chinese exports, including everything from lobster and soybeans to steel products. Beijing has responded by targeting U.S. goods headed to China.
While Mr. Trump did not offer specifics on his accusation of Chinese election meddling on Wednesday, the president may have been referring to China's retaliatory tariffs, as opposed to the type of cyber-hacking that Russia conducted in the 2016 U.S. elections.
China has responded to Mr. Trump's tariffs by targeting higher duties on U.S. farm exports, hitting especially hard at Mr. Trump's GOP base in Midwestern and southern states.
A leaked propaganda memo from the Chinese government in July stated that Beijing was using to tariffs to try to disrupt and split Mr. Trump's Republican base. The notice, published by the China Digital Times, said the Chinese tariffs are meant to split "apart different domestic groups in U.S."
"We stop negotiation for now, acting tit for tat, roll out corresponding policies, hold public opinion at a good level without escalating it, limit scope, and strike accurately and carefully, splitting apart different domestic groups in US," the propaganda memo stated.
China also placed a four-page ad in the Des Moines Register last weekend calling the dispute over soybeans "the fruit of a president's folly."
Mr. Trump's presence at the chairman seat on the Security Council, meanwhile, marked only the third time in history that a U.S. president has headed a meeting of the world's most exclusive diplomatic panel.
He used the moment to also level fresh threats against Iran, saying new U.S. sanctions against Tehran will be enforced in full by early November, and that more penalties against Tehran are being prepared beyond that.
But Mr. Trump's criticism of the 2015 nuclear deal found little support in Wednesday's sessions, as European leaders such as French President Emmanuel Macron and British Prime Minister Theresa May joining China's Mr. Wang and Russian Foreign Minister Sergei Lavrov in urging that the deal be preserved.
Mr. Trump raised eyebrows by then openly expressing gratitude to Iran, Russia and Syria for yielding recently to his administration's demand they use caution in their impending offensive in the Syrian province of Idlib, where a sensitive mix of jihadists, opposition rebels and innocent civilians threatens to unleash a major humanitarian crisis.
"I want to thank Iran, Russia and Syria for at my very strong urging and request, substantially slowing down their attack on Idlib province and the three million people who live there in order to get 35,000 targeted terrorists," Mr. Trump said. "Get the terrorists, but I hope the restraint continues. The world is watching.
"Thank you also to Turkey for helping to negotiate restraint," he said in a reference to Turkish President Recep Tayyip Erdogan's efforts during recent weeks to convince Russian and Iranian leaders to avoid a heavy-handed and rushed military campaign in Idlib.
"Anything the U.S. can do to help resolve this problem in order to save perhaps even hundreds of thousands of lives, maybe more, we are willing and able," Mr. Trump said. "We are available to help."
The energy was buzzing among world leaders as Mr. Trump took to the microphone inside the Security Council's hallowed chamber here in New York on Wednesday morning.
Former President Barack Obama was the first U.S. president to preside over a session of the council, doing so twice during his tenure — once in 2009 and again in 2014.
via: https://www.washingtontimes.com/news/2018/sep/26/donald-trump-accuses-china-of-2018-election-meddli/