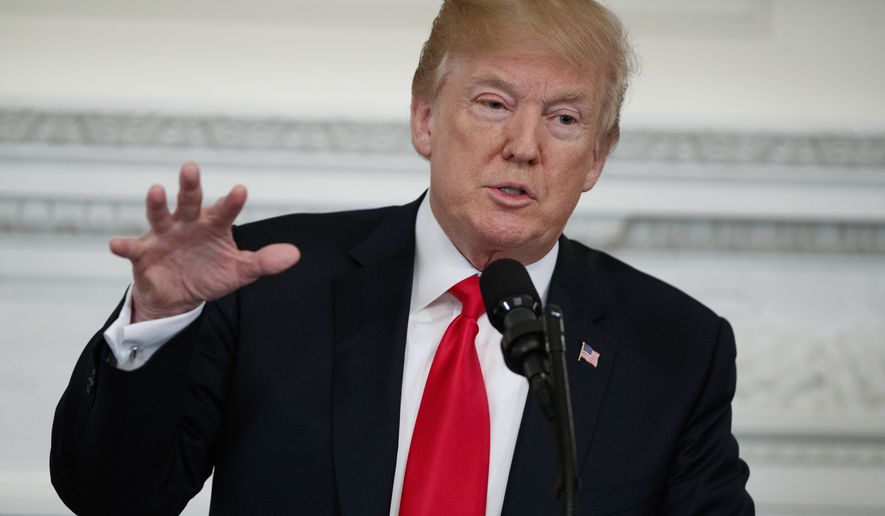 President Trump on Monday lamented the Supreme Court decision not to fast-track a decision on the Obama-era DACA deportation amnesty and sending the case back to the federal 9th Circuit Court of Appeals.
"Nothing is as bad as the 9th Circuit," Mr. Trump said of the San Francisco-based court that routinely rules against his administration's policies. "It is really sad when every single case filed against us is in the 9th Circuit. We lose, we lose, we lose and then we do fine in the Supreme Court."
He called it a "very, very sad" commentary about the court system.
"DACA is going to be put back into the 9th Circuit," Mr. Trump told a meeting of the nation's governors at the White House. "We tried to get it moved quickly, because we would like to help DACA. I think everybody in this room wants to help with DACA."
The Supreme Court decision earlier Monday let stand the lower court ruling that effectively revived Deferred Action for Childhood Arrivals or DACA, cancelling March 5 phaseout ordered last year by Mr. Trump.
It also eased pressure on Congress to find a permanent solution for so-called Dreamers who came illegally to the U.S. as minors and have been shielded by DACA.
The White House blasted the lower court ruling in the case.
"The DACA program — which provides work permits and myriad government benefits to illegal immigrants en masse — is clearly unlawful," White House deputy press secretary Raj Shah said in a statement. "The district judge's decision to unilaterally re-impose a program that Congress had explicitly and repeatedly rejected is a usurpation of legislative authority.
"The fact that this occurs at a time when elected representatives in Congress are actively debating this policy only underscores that the district judge has unwisely intervened in the legislative process," he said. "We look forward to having this case expeditiously heard by the appeals court and, if necessary, the Supreme Court, where we fully expect to prevail."
via: https://www.washingtontimes.com/news/2018/feb/26/trump-raps-scotus-sending-daca-back-san-francisco/