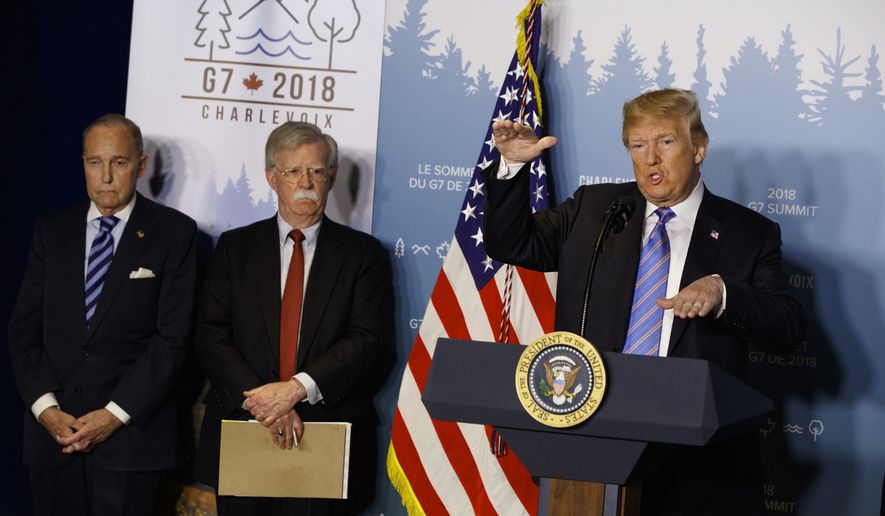 President Trump proposed a major shakeup of the world's economic order during a summit in Canada this week, suggesting the world's big economies drop all tariffs and market-distoring subsidies and go to a fully free system of trade.
He said Saturday that he's also considering scrapping the North American Free Trade Agreement in favor of bilateral trade deals with Canada and Mexico individually.
The announcements come as Mr. Trump seeks to make headway on the deep U.S. trade deficit, saying the country has been taken advantage of for too long, and he is fighting back. He delivered that message personally during meetings with other leaders of the Group of Seven major economies, which took place in Canada on Friday and Saturday.
"We're like the piggy bank that everybody's robbing, and it ends," Mr. Trump told reporters at a press conference at the end of the meeting, just before he jets off to Singapore to meet with North Korea's leader.
He said he suggested cutting all of the tariffs, duties and even government subsidies among the G7 countries, and said other leaders would "go back to the drawing board and check it out."
"Ultimately that's what you want. You want a tariff-free — you want no barriers, and you want no subsidies," he said. "That's the way you learned at the Wharton School of Finance."
The president went into the meeting under intense pressure from foreign leaders after he slapped high tariffs on steel and aluminum imports, citing U.S. national security needs. Canada and European leaders were enraged, vowed to retaliate, and delivered a number of jabs at the president ahead of the G7 summit.
Mr. Trump, though, said conversations were cordial and respectful at the summit.
"It was not contentious. What was strong is the language that this cannot go on. But the relationships are very good," he said.
The president has been a disruptive force for the international trading order, insisting other countries move to reduce barriers he said have left the U.S. with a trade deficit of more than $800 billion.
He said he didn't blame the other world leaders, saying their countries struck good deals at America's expense, and said he blamed previous U.S. presidents.
Mr. Trump has already pulled the U.S. out of the Trans-Pacific Partnership trade deal, and has forced a renegotiation of NAFTA.
He said Saturday that he is still in those talks, with a key sticking point being whether there will be a sunset on the deal so that it's regularly reevaluated. Canada has flatly rejected a sunset, but Mr. Trump said he's making progress on it.
The president said if he doesn't get the NAFTA deal he's looking for, he'll scrap the three-way agreement and instead negotiate bilateral deals with Mexico and Canada individually — which he said would be a loss for both those nations.
via: https://www.washingtontimes.com/news/2018/jun/9/donald-trump-top-economies-should-drop-all-tariffs/