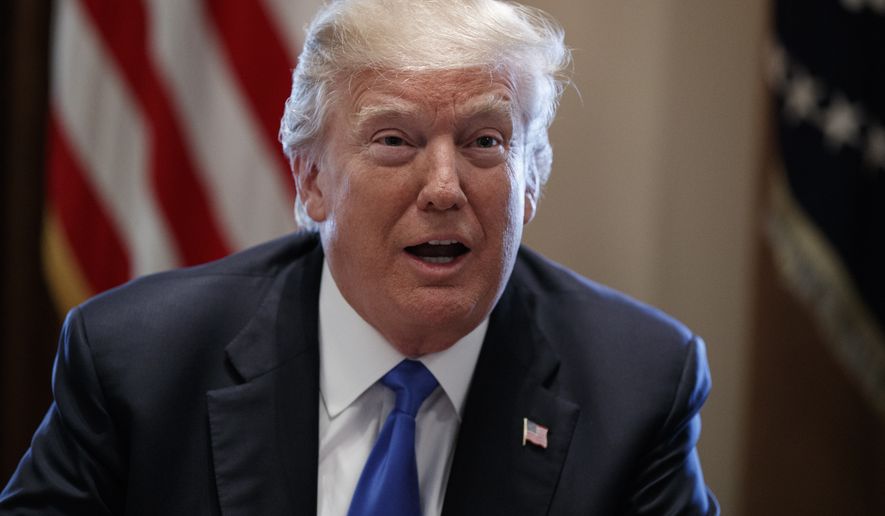 President Trump, who ran on a platform of draining the swamp in Washington, told Congress it should think about bringing back earmark spending, saying it would help grease the legislative wheels.
"I think we should look at a form of earmarks," the president told congressional negotiators. "One thing it did is it brought everybody together."
Mr. Trump said he was fed up with the partisan divisions in trying to get things done, and said the divisions persist despite the country heading in the right direction.
He said earmarks could help restore some of the bipartisanship on Capitol Hill.
"It's going to bring you together," he predicted.
Earmarks — which critics deride as pork-barrel spending — are the language lawmakers tuck into bills to direct money back to projects in their home states and districts.
At their height in the last decade, they accounted for about 1 percent of total government spending, but were susceptible to a number of problems, with money going to projects that never requested it, and one Republican lawmaker ending up in prison for actually selling earmarks in exchange for cash.
Former House GOP leader John A. Boehner led a push to end the practice and when the GOP won control of the House in the 2010 elections he succeeded, imposing a Congress-wide ban.
But many members have been itching for a return to the practice in the years since.
The House GOP was poised to overturn the ban in 2016, after Mr. Trump's election, but House Speaker Paul D. Ryan said it would send the wrong message so soon after the president's election.
Mr. Trump's remarks Tuesday upend that.
The House is already slated to begin studying a return to earmarks, with hearings expected later this month.
Mr. Ryan on Tuesday said they are just talks at this point.
"I want our members to have conversations," he told reporters.
via: https://www.washingtontimes.com/news/2018/jan/9/donald-trump-endorses-return-earmarks/