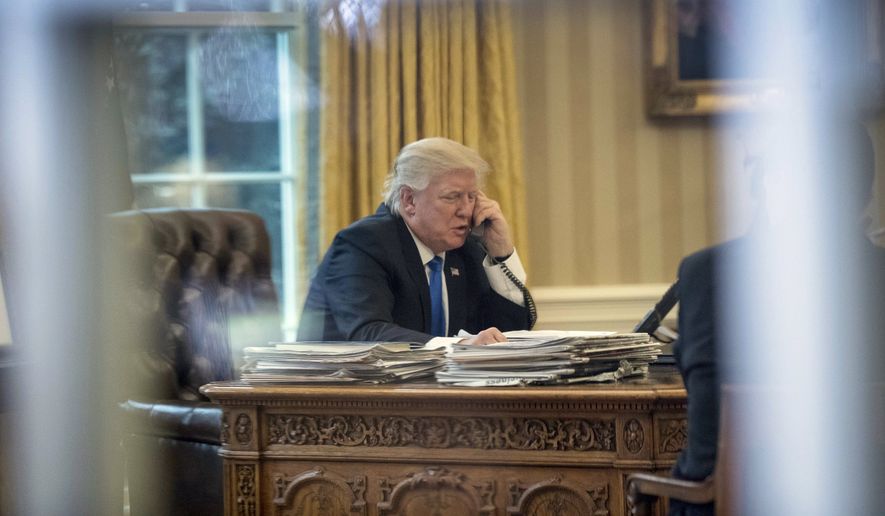 The White House ramped up a search for leakers Thursday after a transcript of President Trump's phone calls with foreign leaders went public, revealing how he pressured Mexico's president to stop saying his country won't pay for a border wall.
The phone calls, which occurred about a week into Mr. Trump's presidency, showed him cajoling Mexican President Enrique Pena Nieto about the wall and venting in a heated exchange with Australian Prime Minister Malcolm Turnbull about refugees.
"If you are going to say that Mexico is not going to pay for the wall, then I do not want to meet with you guys anymore because I cannot live with that," Mr. Trump told Mr. Pena Nieto, according to the transcript of the Jan. 27 call that was published by The Washington Post.
"You cannot say that to the press," said Mr. Trump, who was then — and still is — under pressure to keep a top campaign promise to build a border wall and have Mexico pay for it.
Mr. Pena Nieto always balked at his country footing the bill for a wall to keep illegal immigrants out of America.
In the Jan. 28 call with Mr. Turnbull, Mr. Trump fumes about an Obama administration agreement for the U.S. to take about 2,000 refugees that Australia had detained on a small island off its coast.
"This is a stupid deal," said the president, who days earlier announced a ban on accepting refugees. "OK, this shows me to be a dope."
Mr. Trump's telephone conversations with Mr. Pena Nieto and Mr. Turnbull had been reported previously. However, the complete transcript provides an unvarnished glimpse into the Oval Office and Mr. Trump's early stabs at diplomacy.
It also underscores the problem with White House leaks.
"It's a national security matter when phone call transcripts are being leaked out," said White House deputy press secretary Lindsay Walters. "It prevents the president from being able to do, you know, what he does best, and negotiate with foreign leaders."
The newspaper said the transcript was prepared by White House staff.
The White House did not authenticate the transcript Thursday.
Last week, the incoming White House communications director Anthony Scaramucci had threatened to fire every staff member if needed to stop the leaks.
Mr. Scaramucci was fired less than two weeks into the job in a major staff shakeup that also saw former Homeland Security Secretary John F. Kelly replace Reince Priebus as Mr. Trump's chief of staff.
Sen. Bob Corker, chairman of the Senate Foreign Relations Committee, said that swift punishment and firings were in order.
"If there is even a thought that somebody was involved, get rid of them!" the Tennessee Republican told reporters at the Capitol.
The administration had already made it a priority to plug leaks from the White House and intelligence agencies that were undermining Mr. Trump.
Attorney General Jeff Sessions and Director of National Intelligence Dan Coats will announce Friday a crackdown on leaks. The announcement was planned days before the transcripts were posted online.
In the call with Mr. Pena Nieto, the president said that he recognized that they were both in a "political bind" over saying who pays for the wall.
"I have to have Mexico pay for the wall — I have to. I have been talking about it for a two-year period," Mr. Trump said.
He later adds, "Believe it or not, this is the least important thing that we are talking about, but politically, this might be the most important. But in terms of dollars — or pesos — it is the least important thing."
Mr. Trump assured him that he could build the wall for less than the official estimates.
Mr. Pena Nieto told the president that he put "a very big mark on our back" regarding the wall.
"My position has been, and will continue to be, very firm saying that Mexico cannot pay for that wall," he said.
Mr. Trump responded: "But you cannot say that to the press. The press is going to go with that, and I cannot live with that. You cannot say that to the press because I cannot negotiate under those circumstances."
In the call with Mr. Turnbull, the president questioned the origin of the 2,000 refugees, whom Australia did not want to bring to its mainland.
The mostly male refugees are believed to be from places such as Sri Lanka, Pakistan, Bangladesh, Iran and Iraq, although the origins of many cannot be verified.
Mr. Trump said he would abide by President Obama's deal, but he didn't like it. Still, he became exasperated with Mr. Turnbull.
"I have had it," blasted Mr. Trump. "I have been making these calls all day, and this is the most unpleasant call all day."
Mr. Trump said that an earlier call with Russian President Vladimir Putin went more smoothly. "Putin was a pleasant call," Mr. Trump said. "This is ridiculous."
via: http://www.washingtontimes.com/news/2017/aug/3/donald-trumps-temper-revealed-in-calls-with-foreig/?utm_source=onesignal&utm_campaign=pushnotify&utm_medium=push