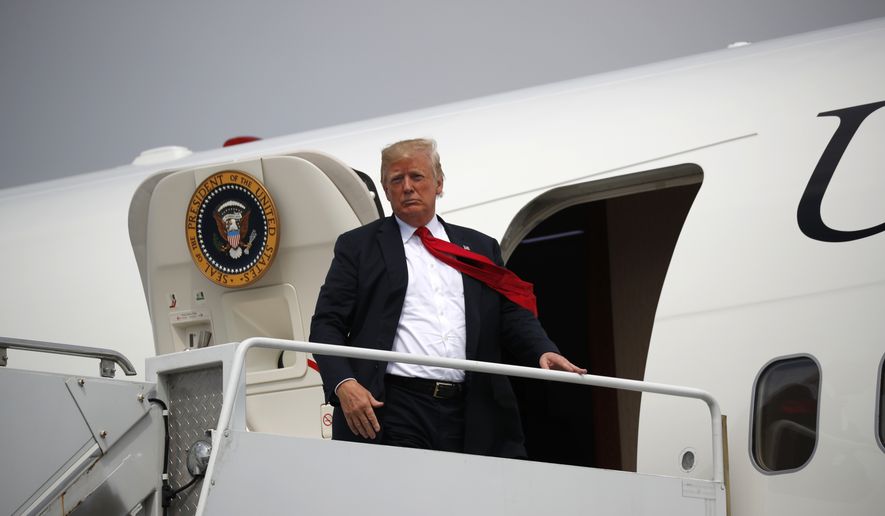 President Trump said Saturday his administration will fight efforts by social-media companies to silence conservatives, saying he won't allow censorship.
"Social Media is totally discriminating against Republican/Conservative voices," Mr. Trump tweeted. "Speaking loudly and clearly for the Trump Administration, we won't let that happen. They are closing down the opinions of many people on the RIGHT, while at the same time doing nothing to others."
In recent weeks, conservative Alex Jones of Infowars has been banned by YouTube, Apple, Facebook and Spotify over concerns about his content. Twitter suspended his account for a one-week "timeout.
Mr. Trump didn't mention Mr. Jones specifically but said censorship "is a very dangerous thing & absolutely impossible to police."
"If you are weeding out Fake News, there is nothing so Fake as CNN & MSNBC, & yet I do not ask that their sick behavior be removed," the president tweeted. "I get used to it and watch with a grain of salt, or don't watch at all."
Mr. Trump said "too many voices are being destroyed, some good & some bad, and that cannot be allowed to happen."
"Who is making the choices, because I can already tell you that too many mistakes are being made. Let everybody participate, good & bad, and we will all just have to figure it out!" he tweeted.
In July, Mr. Trump said his administration would review the practice of "shadow banning" on Twitter, or limiting the visibility of certain people or groups on the social-media platform, asserting that conservatives were being targeted.
The administration also announced a fair housing discrimination complaint Friday against Facebook, saying the way that the social media giant targets ads can be used to screen out people based on race, sex or other protected categories.
via: https://www.washingtontimes.com/news/2018/aug/18/donald-trump-says-he-wont-allow-social-media-compa/