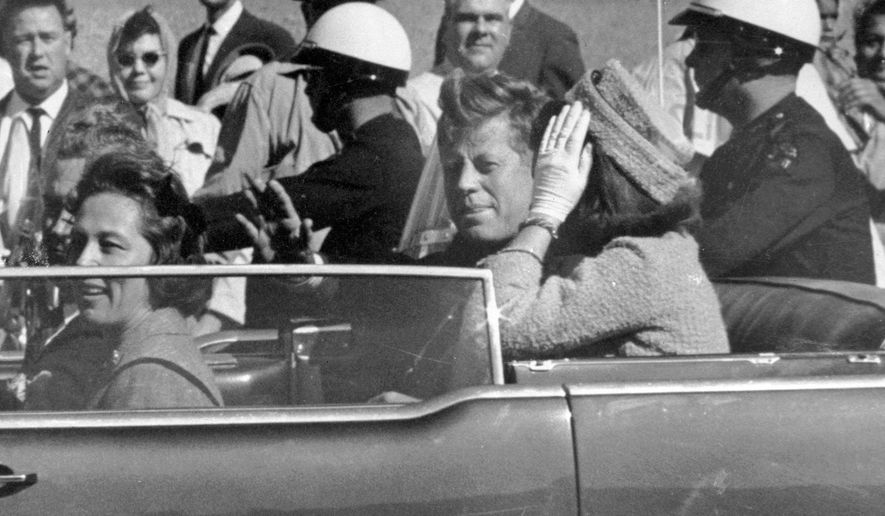 President Trump doesn't plan to prevent the government from publishing classified files detailing the assassination of President John F. Kennedy, he tweeted Saturday, paving the way for the likely release next week of thousands of secret CIA and FBI documents.
"Subject to the receipt of further information, I will be allowing, as President, the long blocked and classified JFK FILES to be opened," Mr. Trump tweeted from his personal Twitter account Saturday morning.
Federal law passed by Congress during the first Bush administration, the Kennedy Assassination Records Collection Act of 1992, requires the U.S. government to release millions of pages involving its investigation into JFK's death within 25 years of taking effect unless the president believes their publication may harm intelligence, law enforcement, military operations or foreign relations.
Most of the roughly 5 million pages of assassination-related files held by the National Archives have been published since the law took effect, but the remaining batch — including tens of thousands of pages worth of classified documents drafted by the FBI and CIA — are required to be released this Thursday, October 26, unless the president decides otherwise.
White House aides didn't clarify Saturday whether the president intends to keep any records classified, The Dallas Morning News reported.
The Trump administration has been working with the National Archives and other agencies "to ensure that the maximum amount of data can be released to the public," a White House spokesperson told the newspaper earlier this week, balancing a goal of "providing the full historical record while protecting national security."
Kennedy was killed on Nov. 22, 1963 while riding in a motorcade through downtown Dallas. The Warren Commission, a federal probe initiated by his vice president and successor, Lyndon B. Johnson, and chaired by Chief Justice Earl Warren, ultimately determined that Kennedy was killed by a single gunman, Lee Harvey Oswald, but conspiracies and rumors surrounding the assassination have persisted in the decades since.
Mr. Trump, for instance, claimed while campaigning for president that the father of Texas Sen. Ted Cruz, his former Republican rival, cavorted with Oswald before Kennedy's assassination. And Roger Stone, Mr. Trump's former campaign advisor, published a book in 2013 accusing Johnson of being involved in his predecessor's murder titled "The Man Who Killed Kennedy: The Case Against LBJ."
via: http://www.washingtontimes.com/news/2017/oct/21/donald-trump-says-he-wont-block-release-secret-jfk/?