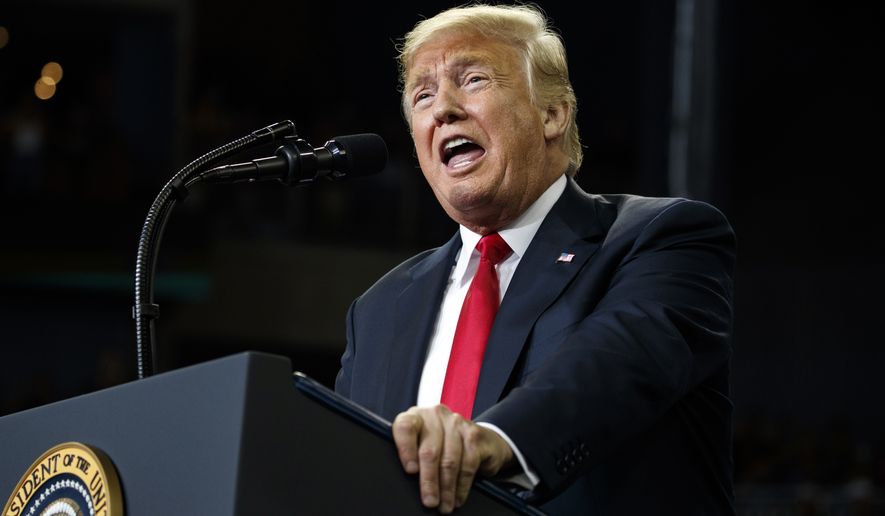 President Trump threatened Thursday night to intervene in the Justice Department if the agency fails to take action against corrupt Democrats, saying "the whole world is watching."
Speaking at a campaign rally in Evansville, Indiana, the president told thousands of supporters that the heads of the Justice Department and FBI "have to start doing their job." He mentioned former Democratic presidential nominee Hillary Clinton, who was investigated but not charged for having a private email server as secretary of State.
"Look at what she's getting away with," Mr. Trump said. "But let's see if she gets away with it. Let's see. Our Justice Department and our FBI have to start doing their job and doing it right, and doing it now. People are angry."
He added, "At some point… I will get involved and I'll get in there if I have to. The whole world is watching, and the whole world understands exactly what is going on."
Mr. Trump has a running feud with Attorney General Jeff Sessions, and has called on him to investigate Mrs. Clinton and others.
The president has hinted strongly that he might fire Mr. Sessions after the mid-term elections.
During the event for GOP Senate candidate Mike Braun, Mr. Trump said Democrats in Washington who are resisting his agenda "are trying to undermine the verdict of our democracy."
"The most remarkable thing about the modern Democrat Party is how truly undemocratic they really have become," he said. "The so-called resistance is mad because their ideas have been rejected by the American people. They're the old and corrupt globalist ruling class that squandered trillions of dollars on foreign adventures."
He criticized previous trade deals, saying they have led to "the greatest transfer of wealth in the history of the world" out of the U.S.
"What we did to our companies and our jobs, we should be ashamed of our leadership," Mr. Trump said. "When we pledge to work over the corruption in Washington, these are the people we're talking about. In this election, we can't let up. We're going to drain the swamp. We've replaced failed Democrat lawmakers with America-first Republicans, and it's happening."
The president also pledged to crack down on social media companies that he said are censoring conservative viewpoints.
"My administration is standing up for the free speech rights of all Americans," he said. "Look at Google, Facebook, Twitter and other social media giants. I've made it clear that we as a country cannot tolerate political censorship, blacklisting and rigged search results. You know it can go the other way, also. We will not let large corporations silence conservative voices. It can go the other way too someday. We're not going let them control what we can and cannot see, read and learn from."
via: https://www.washingtontimes.com/news/2018/aug/30/donald-trump-threatens-intervene-justice-departmen/