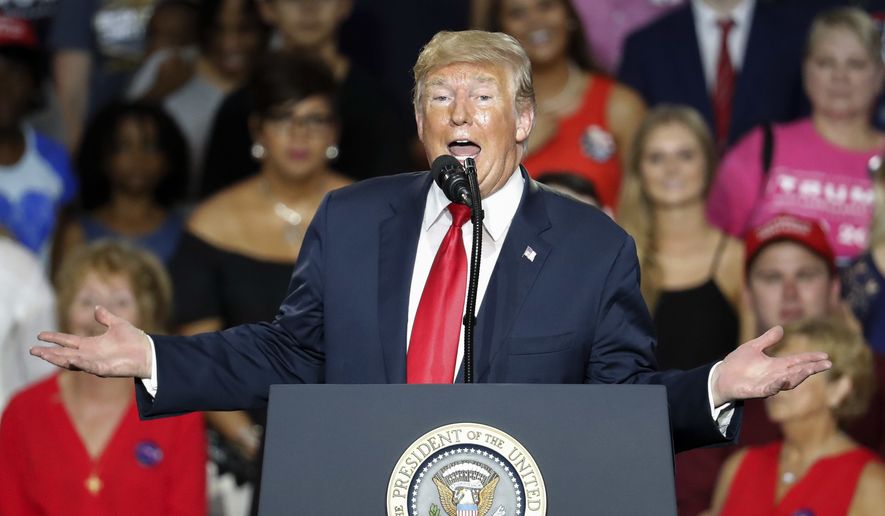 President Trump ridiculed Democratic Sen. Dianne Feinstein Saturday night for allowing a Chinese spy on her staff, questioning why she is "leading the Russia investigation" into possible collusion with the Trump campaign.
"The leader of the Russia investigation, Dianne Feinstein, had a Chinese spy as her driver for 20 years," Mr. Trumptold a campaign audience in central Ohio. "And she's leading the Russian 'witch hunt.' Isn't that something? And then she says to me, 'What did you know about this and that?' Give me a break."
News reports surfaced late this week that Chinese intelligence officials had once recruited a staffer in Ms. Feinstein's San Francisco office to report back to them on local politics. She fired the staffer years ago.
Ms. Feinstein serves on the Senate Intelligence Committee, which has been investigating allegations of Russian collusion with Trump aides in the 2016 presidential campaign.
Mr. Trump said the episode shows that Russia isn't the only foreign power spying on the U.S.
"Not only China, it's a lot of people," he said. "And we've got to stop it. We've got to stop meddling, we've got to stop everybody from attacking us. But there are a lot. Russia's there, China's there. We're doing well with North Korea, but they're probably there [spying]. We've got to stop everybody. And I like Dianne Feinstein. But I don't like the fact that she had a Chinese spy driving her, and she didn't know it."
The president traveled to Lewis Center, Ohio, to urge voters to prevent a "blue wave" in the midterm elections, saying Democrats would reverse the nation's strong economic growth if they take control of Congress.
"They're talking about this 'blue wave.' I don't think so," Mr. Trump said at the rally. "We have the greatest economy in the history of the country."
If the Democrats get in, Mr. Trump said, "they're going to raise your taxes, you're going to have crime all over the place."
"I think it could be a red wave. But you got to get out and vote," Mr. Trump said.
The president was campaigning for Republican state Sen. Troy Balderson, running in a special election Tuesday for a House seat vacated by Rep. Pat Tiberi, a Republican who retired. Democratic opponent Danny O'Connor has a significant lead in fundraising; Mr. Balderson's lead in polls has dwindled from about 10 percentage points in June to one point last week.
The president spoke to capacity crowd of about 3,000 at a high school gymnasium at Lewis Center, Ohio, near Columbus, with people also packing two overflow rooms. He remarked that it was "crazy hot in this room."
"So much for my brand-new suit," he quipped.
Mr. Trump also touched on familiar themes of immigration, trade and the media.
"The new platform of the Democratic Party is to abolish ICE and let's not worry about crime," Mr. Trump said, referring to the Immigration and Customs Enforcement agency. "We're talking about thousands of [illegal immigrants]. We want our country to be a sanctuary for law-abiding Americans, not criminal aliens."
He said steel mills and auto plants are booming again in the U.S. due to his tariffs on foreign imports of steel and aluminum.
"I went to the Wharton School of Finance, and I was a very fine student," Mr. Trump said. "This is basic, so basic. They're coming into the United States to build their plants … because they don't want to pay that tax."
The president also gave a long plug for Fox News, saying the network is "blowing away" rivals CNN and MSNBC in the ratings.
"Hannity, Laura Ingraham, Tucker Carlson, Steve Doocey, … so many others … they're blowing them away in the ratings," Mr. Trump said. "The great Lou Dobbs. Maria Bartiromo. CNN is down at the bottom of the totem pole. MSNBC isn't even close to these shows. "MSNBC is so corrupt, it's so disgusting. They're a fake news group of people."
He ridiculed pundits and opponents in Washington as phony elites.
"You are the elite," he told the crowd. "You're smarter than they are. you've got everything going … the elite? They're more elite than me? I have better everything than they have … and I became president and they didn't … you became president … it's driving them crazy."
via: https://www.washingtontimes.com/news/2018/aug/4/donald-trump-trolls-dianne-feinstein-having-chines/